Full Scholarships to Study Abroad in High School
Article and photos by Connie Ip
Resources updated 1/2/2018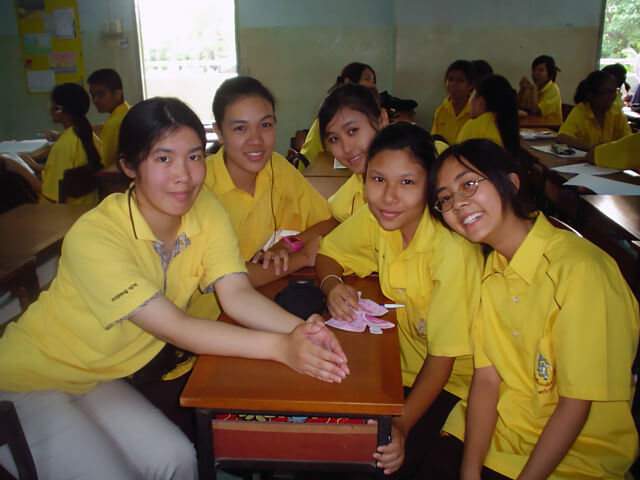 The author (left) in Thailand while enrolled in the AFS high school study abroad program.
Benefits of Studying Abroad As a High School Student
When I was in high school, I participated in three exchange programs. The summer after my sophomore year, I traveled to Thailand through AFS Intercultural Programs. There, I spent two months studying at a Thai high school and volunteering as an English teaching assistant while gaining cultural immersion by living with a local family. The following year, I went to Egypt and studied the Arabic language through an AFS program once again. Shortly after my experience in Egypt, I began yet another study abroad program in Germany, where I enrolled in a German high school and learned German.
Having studied abroad a few times during high school, I can testify that studying in a different country, living and observing a foreign culture, and learning a new language allows you to gain self-confidence and awareness. Whether you are considering spending a summer, semester, or year overseas, the study abroad experience provides ample opportunities for you to take risks, try new things (ranging from food to social situations), and leave your comfort zone. It is not always easy and can be downright frustrating, but ultimately the experience is very rewarding as it eases the transition from adolescence to adulthood, enabling you to develop communication and problem-solving skills and to mature both intellectually and emotionally.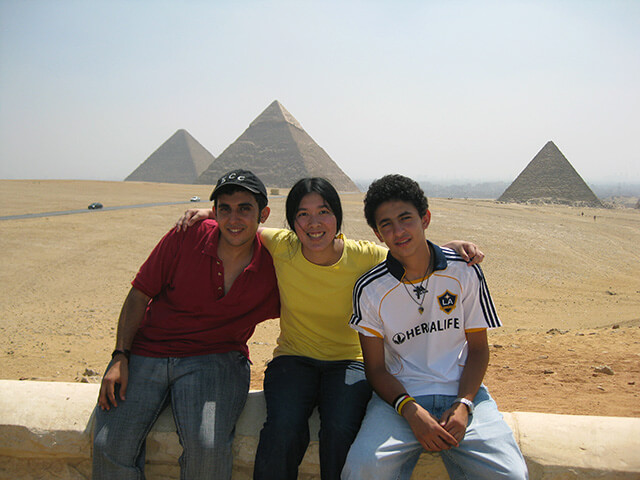 The author (center) in Egypt while on the AFS Arabic language study abroad program.
Financing an International Exchange
Exchange programs come with a heavy price tag and can cost thousands of dollars. Most students and parents reject the idea of studying abroad because they think they cannot finance the venture. Fortunately, there are a number of competitive full scholarships available that allow students to participate in international exchanges. To support my study abroad interests, I thoroughly researched possibilities for funding. I found several scholarships and prepared applications for them. In the end, I won the scholarships and did not have to pay a dime to go abroad each time. I have compiled a list below of fully funded scholarships (including a couple that made it possible for me to go abroad) designed for bright and motivated high school students who wish to study abroad.
Scholarships
Global Citizens of Tomorrow Scholarship
The BP Global Citizens of Tomorrow Scholarship program is sponsored by AFS Intercultural Programs, which is one of the oldest international high school exchange organization, founded in 1915. The scholarship provides financially-challenged students the opportunity to study in Brazil, China, India, Malaysia, or South Africa to gain the intercultural skills needed to succeed in a global economy. The goal of the program is to increase students' intercultural awareness and second-language skills. In order to be eligible for the BP Global Citizens of Tomorrow Scholarship, one must be between the ages of 15-18, reside in the greater Chicago or Houston areas, and demonstrate academic achievement (with a minimum GPA of 3.0 on a 4.0 scale). In addition, one must possess academic and career interest in science, technology, engineering, math, or other fields important to the energy industry and qualify for need-based financial aid.
Congress Bundestag Youth Exchange (CBYX) Program
Sponsored by the U.S. Congress and the German Bundestag, CBYX American students are given the opportunity to live and study abroad in Germany for an academic year. Scholarship recipients serve as youth ambassadors of the United States by sharing their life and culture with their German hosts and building greater international understanding of the United States. To apply for the CBYX Scholarship, you must fulfill the following the requirements: be between the ages of 15-18; be a U.S. citizen, national, or permanent resident; and possess at least a 3.0 GPA.
National Security Language Initiative for Youth (NSLI-Y)
The National Security Language Initiative for Youth program is sponsored by the Bureau of Educational and Cultural Affairs at the U.S. Department of State and it is a part of a government-wide presidential initiative that aims to prepare Americans to be leaders in a global world, promote international dialogue, attain better understanding of global cultures and issues. The U.S. Department of State awards 600 scholarships each year. To qualify for a scholarship, you must be between the ages of 15-18, a U.S. citizen, and have a minimum 2.5 GPA.
Kennedy-Lugar Youth Exchange and Study (YES) Abroad Program
Sponsored by the U.S. Department of State, YES Abroad provides students with the opportunity to study in countries with significant Muslim populations for up to one year. Participants in the program can study in the following countries: Bosnia and Herzegovina; Egypt; Ghana; India; Indonesia; Malaysia; Mali; Morocco; Oman; Thailand; and Turkey. To be eligible for the program, you must be between the ages of 15-18, a high school student, and a U.S. citizen.
For More Information
High School Scholarships
Connie Ip is a college student double majoring in French and European Studies. She is currently doing her junior year abroad in the south of France.