7 Tips for Budget Student Travel in Europe
Have a Memorable and Festive But Affordable Time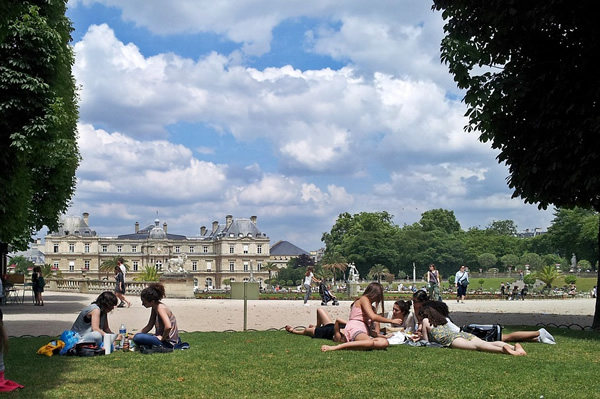 The Jardin de Luxembourg, in the center of Paris, is a popular meeting place for young people in Paris.
Budget travel across Europe is much more than finding the best deals. It's an incredible journey tailor-made for college students, offering a distinct perspective on a continent steeped in history. While students may find themselves at the same iconic spots as our more seasoned counterparts, they have a knack for blazing their own trails. Picture this: a student wanders off the tourist track, uncovering hidden gems, hanging out in local haunts, making fast friends, trying out the language with locals, and soaking in a vibrant tapestry of life. Europe becomes the canvas, and students paint it with diverse experiences, even daring to leap into spontaneous adventures that will become the stuff of legendary college tales and life-changing memories.
Student travelers tend to take local transportation instead of booked bus tours. They are likelier to take a chance to eat and drink off-the-beaten-path rather than tourist cafés, pubs, and restaurants. Not surprisingly, they seek out and participate in cultural events and nightlife geared toward local youth. As a student in Europe, you not only gain a unique perspective about significant destinations but also take advantage of the many discounts available to high school, university, and young people under 26 years of age.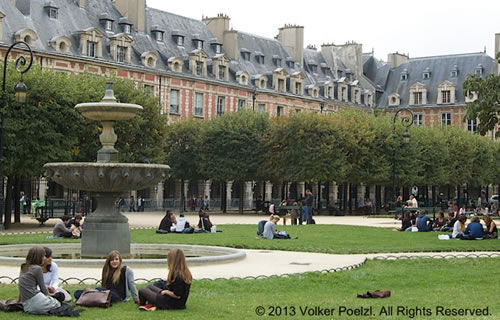 Parks of all sizes in big cities and small are great free picnic spots for students. Photo by Volker Poelzl.
But discounts for museums, railway passes, and concerts alone are not enough to offer significant savings and keep your travel expenses low. Budget travel involves developing wise spending habits and results from some advanced planning. That's why we have compiled a few useful tips for students traveling in Europe this summer or any season you plan to visit.
1. Start Your Planning Before You Go
In these days of universal connectivity and information at your fingertips, it is still worth reading up on your potential destinations. Having a clue where you are going means you don't need to walk around the streets gazing at a guidebook or an app, having already done some background guidebook studying, related reading, and watching of films—in addition to web research. Shared stories from other students can be very useful. Still, such information is often anecdotal by comparison to in-depth reading. After all, as a student, you generally travel due to a profound interest in the culture(s) you are visiting, in addition to the adventure. Ironically, you can often find the best deals simply by researching off-the-beaten-track locations before you go by all sorts of available media.
Planning does not preclude spontaneity and having fun while studying in Europe. On the contrary, knowing when and where to find some of the best free or cheap places to see, eat, go out, enjoy festivals, or even get off the beaten track expands your possibilities. A summer or semester in Paris, Rome, Florence, or Barcelona provides plenty of time to explore free or cheap activities and neighborhoods while enjoying many great walking, eating, and partying cities in Europe—and the world.
2. Know Your Budget and the Current Exchange Rate
When setting up a budget for your trip to Europe, there are a few major financial factors to consider:

The exchange rate between the U.S. dollar and the euro. Check your favorite online exchange rate calculator and learn the best ways to get a reasonable exchange rate without excessive charges. Currently (2023), the dollar is strong against the euro, and Europe is relatively cheap if you get away from tourist congregations.





Enjoy the bargain destinations in Europe that have joined the eurozone before they become more expensive. For example, many of Europe's central and eastern block countries, such as Poland, Bulgaria, Romania, and the Czech Republic, are much cheaper than the more expensive countries in Scandinavia. Even Prague is still relatively inexpensive compared to many cities in the U.S., though prices are rising.




Tailor your spending accordingly; this may be the first time you have had to live on a budget since you are away from home.

With fewer cheap places in Europe, students must resort to extra-smart travel strategies to see Europe on a shoestring. Before heading to a low-cost European destination, make sure they aren't planning to adopt the euro as their new currency just before your trip. Croatia, for example, joined the eurozone in 2013 and converted its previous currency, the kuna, to the euro. The cost of traveling and living in Croatia skyrocketed immediately.
3. Avoid the Tourist Hotspots During High Season When and Where Possible
When sketching out your travel plans, remember that many of Europe's most famous cities—the ones you've likely been dreaming about—can also be the most expensive. We're talking about London, Paris, Rome, Madrid, and Berlin — the bustling metropolises of their respective countries. These cities practically define excitement, but they're also known for their prices that seem to have an uncanny knack to swallow up your hard-earned cash. Now, I'm not saying you should steer clear of these iconic urban cultural wonders entirely, but think of them as appetizers in a grand feast of European exploration.
Picture this: Instead of throwing all your savings into the big city tour, carve out some time to venture off the beaten path. That's where the magic happens. The legendary destinations might attract countless tourists yearly, but over-tourism is real. If you're up for the adventure, you can avoid the crowds and dive into the true essence of Europe in a more authentic, budget-friendly way.
Take London, for instance. Spend a few days soaking in the London vibe, enjoy the famous landmarks, and savor British culture. But don't stop there—hop on a train and explore the hidden gems in the U.K. Paris has its secrets. If you're up for it, consider the camaraderie of a hostel or a stay in the easily accessible outskirts. Then, ride the subway or a lightning-fast commuter train into the heart of the action. Trust me, you'll still get your fill of delicious baguettes and croissants. France is a treasure trove of experiences beyond the Eiffel Tower—think Montpellier, Lyon, Bordeaux, and the towns like Arles and student haven Aix-en-Provence that beckon with their own unique charms, where some of the greatest Impressionist and artists of periods flocked for the indescribable light, the warm people, and the great food—all easily accessible thanks to the stellar transportation network.
Even better, if you're already on a study-abroad adventure, consider exploring Europe during the off-season. Not only will you save some serious dollars, but you'll also experience the continent in a whole new light. The tourist hordes have retreated, life gets closer to normal, and the locals become much more eager to share their culture when they're not dodging selfie sticks every five seconds. So, whether you're planning a summer getaway or an off-season escape, as a student, Europe can be your oyster, and it's time to savor every pearl of wisdom the continent offers.
4. Affordable Adventures Across Europe: Train, Bus, and Ride-Sharing
Picture this: You, the intrepid student explorer, are ready to embark on a European odyssey like no other. Suppose you seek the scenic landscapes crisscrossed by Europe's efficient and delightful train systems, with the occasional thrill of a "bullet train" or the famed TGV. In that case, this is your call to adventure. Let's dive into the world of budget travel options.
Rail Adventures with Eurail: Hold onto your tickets because the Eurail Global Pass is about to be your passport to over 33 dreamy countries. And guess what? If you're under 27, you're eligible for a youth railway pass. Tailor your journey with single-country rail passes crafted just for students. Feeling even more adventurous? RailPass offers customizable rail passes for curious souls who can't get enough of Europe's surprises and beauty. Prepare for serious savings, especially when wanderlust leads you on epic, long-haul adventures. You can also opt for the Eurail One Country pass if you wish to explore France or Italy. Also look out for exclusive discounts from SNCF, the French rail system, for those who plan ahead but wish to go to specific destinations, often with options to visit cities in countries nearby. More budget means more exploring, more indulgence, and more unforgettable moments.


Bus Across Europe on a Budget: With rail travel costs rising at times, budget-conscious students are hopping aboard Europe's low-cost but ultra-comfortable bus services. These comfortable buses will take you across continents, countries, and even within cities without burning a hole in your wallet. Do a bit of searching, and you'll uncover local and international bus routes that won't dent your bank account. Check out handy apps like Omnio and Trainline (which also compare train and bus routes) to prepare your adventure itinerary.


Ride-Sharing: Where Adventure Meets Savings: Hitchhiking? That's so last century. For the modern student traveler, there are safe and convenient alternatives. European universities are hotspots for ride-sharing info, with bulletin boards brimming with student ride-sharing opportunities. It's not just about reaching your destination; it's a chance to meet kindred spirits and explore together. Plus, you'll stumble upon ride-sharing ads at hostels and student hangouts, like cozy coffee houses near universities. But what really sets this way to travel on a budget apart? Ride-sharing services that connect you with fellow travelers and drivers headed your way. You can hop in a private vehicle for journeys within countries or across borders for a small fee and a share of fuel costs. Visit Blablacar.com, the ultimate ride-sharing hub that lists rides spanning Europe. Starting your journey from the UK? No worries; you can access this service from nearly any country. Knowing a bit of the language of the countries in which you are traveling does not hurt. Still, most Europeans speak some English; hopefully, you speak a bit of the tongue or are willing to learn.
5. Use Youth Hostels, Couchsurfing, or HelpAway and More to Save on Accommodations
Youth Hostels
Solo adventurers and budget-savvy students will find gems in Europe's bustling cities and charming towns—Youth Hostels! These havens offer more than just a place to rest your head; they're a great place to develop traveler friendships and unforgettable experiences. Here are some reasons Youth Hostels are your ultimate companions on your European journey.
Pocket-Friendly Explorations: One of the golden rules of budget travel is paying for what you need, not an entire room. That's where Youth Hostels shine. In Europe, they're scattered seemingly everywhere to be discovered. Many are proud International Youth Hostel Association members, meaning sweet discounts for members like you.


Solo Travel Made Easy: Imagine a cozy dorm bed in a Parisian hostel setting you back just $30-$40 a night. Now, imagine if you're not traveling solo—you can often snag a double room at the same spot and split the cost, making it a win-win for your budget.


Youthful Adventures: Youth Hostels cater to the young and the young at heart. They're vibrant hubs where fellow explorers become fast friends, and spontaneous travel companions are often found. When you're not just exploring a destination but also sharing the journey, magic happens.


Hassle-Free Booking: Thanks to platforms like Hostelworld.com (please see our section on youth hostels for other similar options), you can easily plan your adventures. Most often, like Hostelworld, they now have apps or websites that let you book your spot in advance, ensuring you stick to your budget and eliminate the stress of last-minute accommodations.


Morning Booking Magic: Here's a pro tip, especially for those summer escapades. Accommodations tend to vanish in peak season. So, make it a morning ritual to reach out to hostels, guesthouses, or hotels in your new city. Booking early means you'll score the most comfortable digs.


Buddy Up for Savings: What if hostels are scarce or fully booked? Fear not! Europe is teeming with fellow adventurers. Whether on a train or wandering through town, striking up a conversation can lead to sharing a hotel room for a night or two. Splitting costs means more euros in your pocket for more European escapades.


Unforgettable Memories: Beyond the budget benefits, Youth Hostels create unforgettable memories. They're hubs of cultural exchange, late-night conversations, and stories that often become a big part of your travel memories and spontaneous decisions.
So, whether you're embarking on a semester abroad, a gap year adventure, or a summer exploration, Europe's youth hostels are central to many budget-friendly, memory-filled escapades. Be adventurous and make your hostel stay an unforgettable part of your European journey. (The editor-in-chief certainly did so during his summers and gap year trips to extend his budget.)
Couchsurfing Adventures for Students
Couchsurfing is an exciting and budget-friendly accommodation option for students looking to explore the world in a more authentic way. Here's a description of Couchsurfing options tailored to students. (The annual plan is less than $30 for free lodging .)
Picture this: You, the intrepid student traveler, embark on a European journey. But here's the twist—you're not just visiting new places but also immersing yourself deeper into the local culture while potentially meeting and making lifelong friends.
Stay with Locals: Couchsurfing isn't just about finding a place to crash; it's about connecting with locals excited to share their homes and insights into their hometowns. As a student, this means immersing yourself in the authentic side of a destination, far away from the touristy veneer.


Diverse Accommodations: While it's called "Couchsurfing," the reality is far more diverse. You might find yourself on a comfy couch, a spare bed, or a cozy guest room. The accommodation options are as varied as the people you'll meet.


Cultural Exchange: Couchsurfing isn't just a free place to stay; it's a chance to engage in cultural exchange. Your host might offer to show you their favorite local spots, share meals, and introduce you to their friends. It's an immersive experience that textbooks can't provide.


Budget-Friendly: Couchsurfing is a game-changer in terms of cost for students. It's often entirely free, which leaves you with more funds for exploring and trying out local cuisine or exciting activities.


Safety First: While Couchsurfing can be an incredibly enriching experience, it's crucial to prioritize safety. The platform has verification systems, reviews, and profiles to help you choose trustworthy hosts and surfers. Always read reviews and trust your instincts when choosing a host or guest.


Creating Lifelong Memories: Beyond a place to sleep, Couchsurfing often leads to lifelong friendships and unforgettable memories. You'll hear stories, share experiences, and make connections that can last a lifetime.


Responsible Travel: Couchsurfing promotes responsible travel by encouraging cultural respect and sustainable practices. It's an opportunity to be a responsible traveler, positively impacting the places you visit.
Workaway for Students: Unlocking a World of Advantages
For students seeking an culturally immersive, budget-friendly, and cross-cultural way to explore Europe during more extended periods, Workaway, like some other similar organizations, is worth checking out (just $49 a year for a membership that will save you so much more). Here are some of advantages of Workaway tailored to students:
Cultural Immersion: Workaway allows students to dive deep into the local culture of their host country. By living and working alongside locals, you gain insights and experiences that go beyond typical tourist encounters.


Unique Learning Opportunities: Whether you're teaching English, helping with organic farming, or contributing to a community project, Workaway offers diverse learning experiences. You can acquire new skills and knowledge that complement your academic pursuits.


Budget-Friendly Travel: As a student, every penny counts. Workaway provides accommodation and often meals in exchange for your work, significantly reducing your travel expenses. This allows you to explore more places and extend your adventures.


Flexibility: Workaway offers flexibility in terms of the type of work, location, and duration of your stay. Students can plan their trips around school breaks or choose shorter commitments that fit their academic schedules.


Networking: Engaging in Workaway exposes students to a global network of hosts and fellow volunteers. You'll make connections with people from various backgrounds and cultures, expanding your social and professional network.


Resume Enhancement: Workaway experiences can be valuable additions to your resume. They demonstrate adaptability, teamwork, and a willingness to step out of your comfort zone—qualities that can impress future employers.


Language Practice: If you're studying a foreign language, Workaway provides an excellent opportunity to practice and improve your language skills in a real-life context.


Meaningful Travel: Many Workaway projects focus on sustainability, community development, or social causes. This allows students to engage in meaningful travel, knowing their contributions are making a positive impact.


Adventure Variety: Workaway offers a wide range of opportunities, from volunteering on farms to working in hostels, teaching, childcare, and more. You can tailor your adventures to match your interests and passions.


Travel Safety: The Workaway platform provides a degree of safety and security, as hosts are reviewed by previous volunteers. It's a trusted way to connect with hosts and ensure a safe travel experience.


Independence: Workaway encourages independence and self-reliance. Students gain confidence in navigating unfamiliar environments and problem-solving, which can be empowering.


Lifelong Memories: Beyond the practical benefits, Workaway often leads to unforgettable memories, lifelong friendships, and personal growth. The experiences you gain can shape your outlook on the world.
Workaway is a fantastic way for students to combine travel, learning, and cultural immersion. The organiation empowers you to explore the world while minimizing costs and maximizing meaningful experiences. Whether it's a summer break, gap year, or semester abroad, Workaway opens doors to a world of opportunities for students on a budget but with adventurous spirits.
6. Take Advantage of the Many Student Discounts in Europe
Find out where the discounts are and use them. Contact a student travel agency in your hometown and find out about discount fares. Get an International Student Identity Card (ISIC) before you leave, and show it wherever you go, at hostels, ticket counters, restaurants, museums, etc. You'll be surprised at how many discounts you will get in Europe just by showing a student I.D. Also, keep in mind that some sights offer group discounts. So if you are with fellow travelers, you might want to join up for a day as a "family" to get reduced admission to an attraction, sight, or event.
And here's an insider tip: don't underestimate the persuasive power of a friendly chat. If you talk to the right person and spend some time in friendly conversation, you may get a discount just for brightening up the vendor's day. This won't happen at the Louvre in Paris, where booking tickets online in advance is often advisable. However, it is possible at a less popular attraction, where a bored ticket vendor might look forward to a friendly conversation with a visitor.
7. Enjoy the Many Free and Fun Things to Do Across Europe
Ask at the local tourist information booth if they have a calendar of events or a brochure for young people so you know what's going on at your destination while you're there, or do a search online before you leave or at the many WiFi hotspots that are now almost everywhere in Europe. Many cities and towns across Europe offer summer festivals, including free events such as concerts, fairs, exhibits, and more. And even if there is a highbrow and costly classical music festival at one of your destinations, most cities will offer free events to the general public at the same time or steep discounts for students if interested.
Cities all over Europe hold free outdoor concerts n parks and squares in the summer. It would help if you found out beforehand where the action will be and ensure you get there ahead of time. But you don't have to look for a scheduled event to have something free and fun to do. Many sites across Europe attract crowds of young people. There's always fun to be had for free: street musicians, jugglers, acrobats, magicians, painters—all of them offering some form of entertainment, some of which is very high-quality. There is plenty of information on the many festivals in Europe, and some even plan their trips around visits to festivals for a guaranteed great time.
Free street music, sometimes played by students, lets you experience Paris and Europe in general in a different light. Photo by Volker Poelzl.
In sum, if you follow these essential tips, while Europe remains expensive for travelers by comparison with many parts of the world, you can enjoy a great spring, summer, or fall break for far less than you imagine possible.