How to Ship Your Car Internationally
Best Transportation Options for Your Vehicle Overseas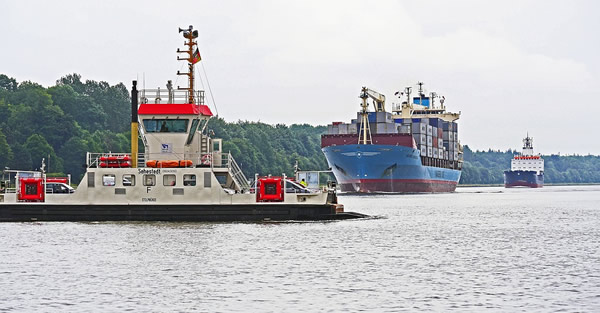 Shipping your car overseas is often done via cargo ship containers.
Relocating to another country or being one who frequently travels internationally can be a hassle if you have belongings to bring along with you. Fortunately, with all of the transport companies available worldwide, it is easy to find a transporter you can trust to deliver your vehicle safely to another land. Depending upon the method of transport you choose, the vehicle may be able to contain some of your belongings so long as they are permitted in the country into which they are being shipped.
Traveling wherever you wish to go when you have your own vehicle makes planning your own trip, accommodations, and pace far more possible. Taking public transportation in foreign lands can sometimes prove to be extremely confusing. That is, if public transit even exists in the country in which you intend to reside. The language barrier can also be a concern when relying on public transportation abroad.
The Process of Shipping a Vehicle Internationally
An overseas transport is a process that requires professional attention. The vehicle will have to comply with the restrictions and regulations set by the host country. The car and paperwork will need to be prepared accordingly. An international auto transport company can help stay on top of matters and make the process go more smoothly. (See box out below for shipping companies.)
Below, you will find a step-by-step list explaining the shipping process for an automobile.
Research transport companies near your current residence. Read reviews and ratings for each potential company on the Web, and narrow your results down to a select few. Call these companies to address any of your concerns and receive a quote.
Book your vehicle's transport at least two months in advance.
Call the embassy of the country where you are shipping the automobile and ask about the import policies. Take copious notes while being given the pertinent information, and ask if there is any digital documentation.
Start preparing for the shipping process. Fulfill inspections, start gathering the necessary documents, and pay all tariffs associated with the transport. Provide all of the proof required by the host country Customs.
Clean the exterior and interior of the vehicle. Check all of the fluids and make sure the fuel is less than a quarter of a tank full. Also fill the tires with air if needed.
Arrange any rides you may need to retrieve or drop off the vehicle.
Preparing for international car transport can be time consuming. Nevertheless, with the assistance of seasoned professionals, the process of shipping should go over smoothly and your vehicle should arrive safe and sound at the port of your new home or destination country.
The Advantages of Using a Skilled Vehicle Transporter
Hiring an international transport company for vehicle shipping offers many advantages. Not only do they make it possible for you to ship your vehicle overseas, but they offer extra security for the vehicle that the untrained person wouldn't be capable of contributing.
Insurance is provided to every vehicle in the care of the transporter. It is mandatory for all transport companies to offer insurance to those who ship vehicles using their services. If anything happens to the integrity of the vehicle during the shipping process, it will be handled through the company's insurance policy.
Trained professionals will be the only people handling your automobile. They have been trained to properly care for a vehicle during the shipping process, including how to secure it for travel.
Transport companies will have freight ships, cargo containers, fasteners and other material necessities required for a secure shipping process. Using the accurate tools and pieces of equipment is crucial for a successful relocation.
Reputable shipping services are time efficient and can conduct the shipping process much quicker than other methods of getting a vehicle into a far-off country.
You will have more time to focus on other matters that revolve around your upcoming relocation to another country.
Any dependable transport company will assist you in preparation. Many of them will guide you through and even ensure that you meet the regulations and restrictions ordained by the destination country for your vehicle. Hiring a transporter is beneficial in many ways and the most successful way to import a vehicle into another nation.
Some International Shipping Companies for Your Car or other Vehicles
Here are few of the hundreds of shipping companies available, some of whom ship RVs and motorcylces as well as cars.
Check online reviews via Google+ and other sites, as well as the Better Business Bureau, among other agencies, for greater peace of mind.
Atlas International (Handles international auto transport in addition to moving possessions)