9 Personal and Cross-Cultural Benefits of Blogging Abroad
Article and photos by Michelle Chang
Published 6/11/2016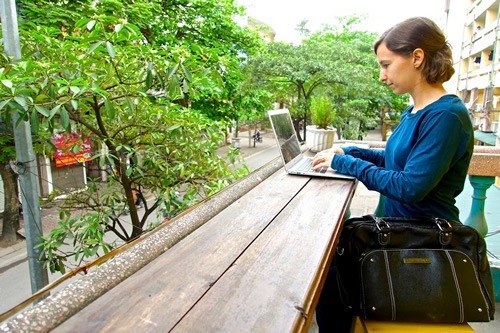 Author updating her blog while abroad.
Going abroad is an exciting undertaking, and more people are discovering the abundant options than ever before. Many dream about making a big leap—like becoming an exchange student, volunteering with the Peace Corps, or moving to a foreign country. If you're one of the few who is actually stepping out and making it happen, then it's sure to be a grand adventure.
Although you're excited, you may have a few concerns as well. Will I be homesick? Will my friends and family stay in touch? When I talk to people back home, will they understand what I'm going through? How do I make the most of my experience?
Such concerns are normal and valid. And, as you'll soon see, many of these concerns can be overcome through the meaningful practice of keeping a blog. When used intentionally, online tools such as blogging can provide many rewards during your time abroad, both for yourself and for others.
Staying in Touch
As you probably suspect, blogging is a great way to stay in touch. Not everyone can embark on an adventure across the globe, but you can bring family and friends along with you through digital story-telling. Although the blog will never replace personal conversations by phone or Skype with your closest loved ones, you can't realistically expect to maintain such lengthy exchanges with more than a handful of people. A blog is a great way for more people back home to interact with you while on your journey.
Take others along on your adventures as you recount funny stories, reflect on significant conversations with your neighbors, and discover surprising customs in new homes away from home.
Processing Your Experience
Being immersed in another culture is often not easy. You will occasionally be experiencing the unknown, navigating unclear cultural differences, testing your language skills, and leading a new daily life. If you don't stop to reflect, you may not even realize the many ways that you are being challenged and growing as a result. Processing your experience is important for self-development, and the act of organizing your thoughts into a blog post is a great way to extract nuggets of wisdom.
(Note that not all that you're processing may be appropriate for a public blog. Sometimes journaling is a better route if you're dealing with sensitive issues, or may still need to further work through your thoughts.)
Documenting Memories
By blogging regularly and keeping your readers up to date, you're also essentially creating your own online journal. When your time abroad has come to a close, you'll be able to look back at the pictures and stories on your blog to reminisce. And if you ever need to refer back to a specific detail that you can no longer remember, your blog will be there as a record.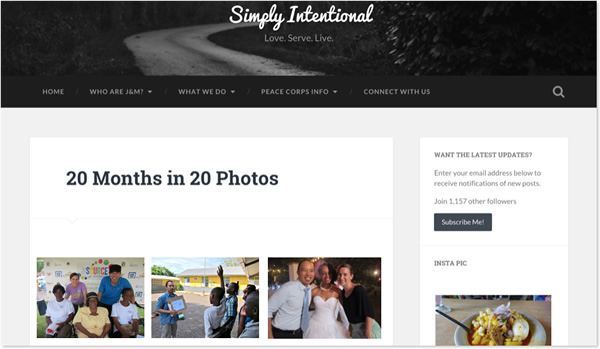 A sample blog.
Achieving Small Wins
Sometimes the challenges of living abroad can become overwhelming. Maybe you feel like you're failing to learn the language, or you're making cultural faux pas, or you're not accomplishing as much as you expected. When so much seems out of control, writing a blog post is an easy win. You get the sense of accomplishment from creating something and putting it out into the world. You can make a difference through the words and images on your blog, even if you may be struggling with aspects of your actual life, work, or studies abroad offline.
Promoting Cross-Cultural Understanding
Think of yourself as a digital Ambassador. You represent your home country to your host community. And you gather valuable insights from your host community to share with folks back home. Many of your readers will have no idea what it's like to live in your host country unless you tell them.
Explore, compare and contrast the best about cultures at home and abroad respectively, and demonstrate the unique values each has to offer. You'll likely become an expert in the drawbacks of both cultures, as well, and will thus have the tricky responsibility of painting an honest and balanced picture for your readers.
Giving A Voice
People tend to learn best through stories, and everyone has a story to tell. As you encounter new people and hear their stories, your blog can be a voice for others. Interview your community members and share what you learn from them. (Remember to always be sensitive to privacy issues, which can vary widely across cultures. Be sure to ask permission before publishing someone's name or picture publicly.)
Reaching More People
You will be hard pressed to find a more captive audience than when people are following your blog while you're abroad. People want to live vicariously through your adventures, and they will be inspired by it.
The true power of your blog is that it will multiply the number of people who benefit from what you're experiencing abroad. You will inevitably be learning and growing through your cross-cultural exchanges, but so will your readers! Don't miss the chance to leverage your experiences and multiply your impact.
Empowering Others to Follow Suit
Not only are you a cultural ambassador, you're also an ambassador for your particular role abroad—be it volunteer, student, or expat. For some people, you may be the first person they know who is doing what you are doing. Know that your blog will inform and inspire others to follow in your footsteps.
Developing Online Skills
An often overlooked benefit for amateur bloggers is that it develops important digital skills that can become very useful for your future career. Many freelance workers and "digital nomads" use a blog as a testing grounds to practice their writing or photography, or develop other web skills. By building an income with freelance work that can be done online, more and more people are enjoying the freedom of long-term travel while they work. These online self-employment jobs include freelance writing, copy editing, photography, web development, social media management, and much more. Blogging has itself become a profitable career for some. Any of these options are a great way to achieve a "location independent" lifestyle.
Even if you don't go the digital nomad route, skills related to blogging are applicable to countless traditional career fields as well. As you maintain your blog, constantly seek to improve it by using online resources to expand your knowledge. You can gain valuable expertise in effective writing, creating images, Search Engine Optimization, general marketing, and even basic coding. Any of these can be powerful resumé boosters in today's digital age.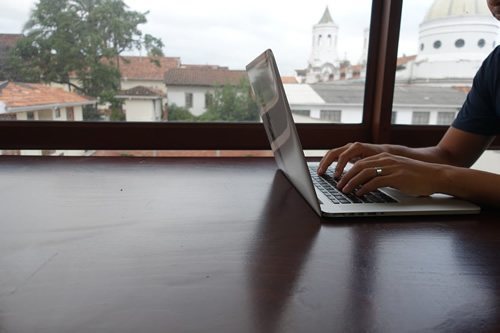 Another advantage of blogging abroad is developing your online digital skills, useful for your future career, which includes the option of being a location-independent digital nomad.
For More Info
Blogging Abroad
If you're interested in bridging cultures through blogging, this site has resources to help take your blog to the next level.
Featured Blogs Around the World
The page is a growing hub of cultural blogs listed by country and the type of program. Look for blog post ideas from fellow bloggers, or gain a glimpse into life in a particular culture. You can also submit your own blog to be featured.
Virtual Jobs Abroad
An article that shares several more ways to support yourself while living or traveling abroad.
What Is A Digital Nomad?
Get more clarity on the "digital nomad" or "location independent" concept, including a full definition, the different types of work, benefits, and further resources.
| | |
| --- | --- |
| | Michelle Chang and her husband quit their jobs to serve in the Peace Corps from 2012-2014. During their service in Jamaica, their blog was awarded for quality and cultural content. They have since become "digital nomads," running their own freelance web services company as they travel. Michelle is a blogger at IntentionalTravelers.com and recently founded BloggingAbroad.org. |