Volunteering at a Peruvian Home for Teenage Mothers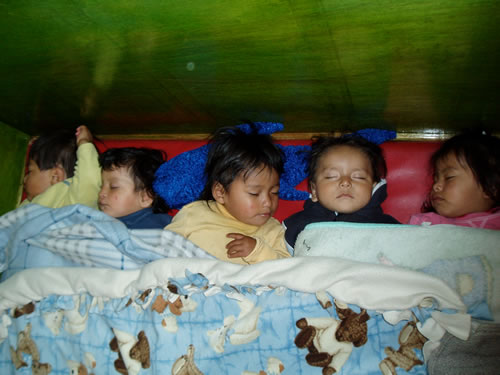 Babies sleeping at a nursery in Peru.
Staggering statistics depict the lives of many women in Peru:
14% of girls in Peru become pregnant before the age of 18, and a staggering 90% of these pregnancies are the result of rape
Only one out of every eight reported cases of rape in Peru are counted
A woman is raped in Peru every 20 minutes, and that does not take unreported cases into account
Most travelers go to Cusco and never leave the central area of the city, except perhaps to see Machu Pichu. Travelers take photos of the Plaza de Armas with its spectacular Spanish and Incan architecture, eat food at Gringo cafes, and high-end Peruvian restaurants, and buy jewelry and souvenirs from decorated Peruvian women. They return home to their countries believing they have experienced Peru, when in reality, they have not seen most of it. Most travelers who come to Cusco do not take a small and overcrowded bus to its surrounding neighborhoods. They do not see the poverty and violence hidden by Cusco's touristy mask: the run down slums, the dirty children begging for food—the multitude of young mothers. They often do not to see what is not agreeable. However, I did not go to Cusco to ignore its less pretty parts. I went specifically to find them, and to help.
Volunteering at the La Casa de Acogida Mantay
Welcome to La Casa de Acogida Mantay, a home specifically for single mothers aged 12 to 18 just outside Cusco, Peru. From the outside it does not look like much, hidden by an adobe wall on a narrow, half-forgotten dirt street. But pass through the wooden gate and you will be greeted by a host of bright colors and faces. Mantay (which is the Quechua word for mother), is unique; the home's mission is to help women who might otherwise have been forced to abandon their children by providing a home, an education, and by allowing these young women to still enjoy their adolescence. Currently, the home has assisted 145 minors in total: 73 mothers and 75 children. It is clear from the beginning that Mantay is much more than just a temporary shelter for the women and children it takes in, much more than just a roof and a hot meal. Mantay is a home. It is a school. It is a place that teaches young and underprepared mothers the skills and, more importantly, the confidence to leave its walls when the time is right.
It was during February of 2009—my fifth month living in South America—that I discovered Mantay. I had taken a gap year between my freshman and sophomore years of college to travel and learn Spanish, and was living in Southern Argentina at the time. Before returning to the US in the end of April, I wanted to do volunteer work. I felt compelled to work with women or children.
Eventually, with the miraculous search engine powers on the Web and the aid of keywords such as "volunteer FREE South America," I managed to find a wonderful website called volunteersouthamerica.net. This website had been created by a British man who had encountered difficulty finding an affordable volunteer program while traveling in South America. To assist others in this situation, he created volunteersouthomerica.net, which provides links to hundreds of grassroots organizations offering free- or low-cost volunteer opportunities throughout South America.
Through volunteersouthamerica.net I found an organization called Fairplay Peru, a Spanish school comprised entirely of single mothers. Fairplay Peru not only offered Spanish classes, but also provided exactly what I was looking for: links to a number of places in need of volunteers in Cusco, the famous Incan city. It was through Fairplay-Peru that I finally read about Mantay and the homes mission. Immediately, I knew Mantay was where I wanted to spend my time volunteering.
Caring for the Children
I began working at Mantay on April 1st. During my time at the home I volunteered in the guardería, or nursery. A rare gem in Peru, the guardería was clean, safe, and well equipped with supplies. The babies I cared for ranged from two years to four months when I arrived, and two years to four days when I left. My time in the guardería consisted largely of washing, changing, feeding, mopping floors, and wiping down sticky tables, chins, and fingers. But this was not my true work. My true work was something entirely different. It was teaching Gabriel a new word, getting to watch his joy as his tiny mouth formed the correct sounds. It was holding Ricardo and Yessenia's hands as they took their first steps, and the look in Alexandra's eyes as I rocked her to sleep. I got to know each baby as if he or she were my own: who did not like onions and who did not like peas, who liked to be rocked, and who liked to be bounced, exactly which cry meant "I'm sleepy," which meant "I'm hungry," and which meant "Sergio bit me again." I grew to love these babies as if they were my own as well.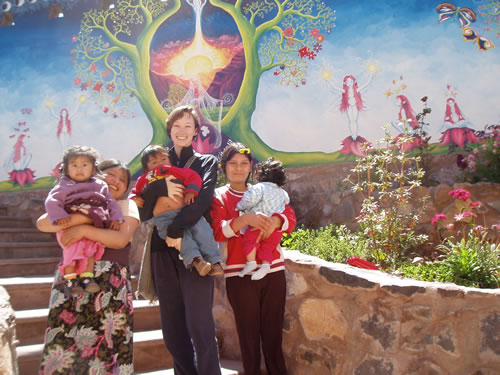 Author while volunteering to care for babies.
Getting to Know the Peruvian Mothers
Getting to know the mothers of the babies I cared for was another wonderful part of my time at Mantay. These women continually strived to fill the role of mother that had been thrust upon them. I have never before met such a loving, kind, and above all, resilient group of women. Most, if not all, of these women had become mothers at such a young age through rape, in many cases by a family member. This, unfortunately, is not uncommon in Peru. Often, it was at the insistence of the police that the women had been removed from their homes and placed at Mantay. Their homes and families ranged from so close to Mantay that their baby could not leave for fear of being kidnapped by the father (as in one mother's case), to Chiclayo, a town over twenty hours from Cusco (as in the case of another). However, all of the mothers shared something in common: they could not return to these places.
Most of the mothers had also never received any formal education. One mother, when asked to write her sons name, was unable to, and nearly all of them struggled to read, write, and tell time. Two mothers spoke only Quechua when they arrived at Mantay, and were unable to communicate. However, as I said before, these women were a remarkably resilient breed. Not one of them let disadvantage stand in their way. They studied Monday through Friday with academic tutors brought in by Mantay (with such special circumstances it would have been impossible for them to attend a traditional school). Little by little, the women learned to read, to write, to use a dictionary, and to tell time. As in the case of the two mothers who spoke only Quechua, they even learned to speak a new language—Spanish. The walls of the home were decorated with reports the women had written about women they admired: Mother Teresa, Frieda Kahlo, Eleanor Roosevelt, and others. Almost all of the women aspired to continue their educations after leaving Mantay. One woman, 15 years old and the mother of a 4-month-old daughter, even dreamed of someday attending veterinary school.
Likewise, these women applied themselves wholeheartedly to becoming good mothers. Although young and underprepared for the experience, they embraced their motherhood. Thanks to a health insurance plan provided by Mantay, mothers accompanied their babies on regular doctor visits to make sure the baby was healthy and growing properly. All mothers also regularly assisted in the guardería, learning about proper nutrition, hygiene, and the benefits of a violence-free childhood (it was forbidden at Mantay to hit a child). When they were not studying or helping care for the babies in the guardería, the mothers were working in Mantay's leather workshop learning to produce beautiful leatherwork that was then sold in select shops in both Cusco and the United States. The goal of the workshop was to teach the mothers a skill that, after leaving the home, they could then use as a means of income to support themselves and their children.
My time at La Casa de Acogida Mantay proved to me that love has no stipulations. Love is not a matter of age; the 14-year-old girl on the streets loves the baby in her arms just as much as the happily married woman loves the baby in hers. Just as love does not know old from young, it does not know rich from poor, prepared from terrified. Love is just that: love. It is the women of Mantay studying day after day, working in the workshop, striving to build a better life for their children than the ones they once knew. These are women that will never look back and stare determinedly forward. This is pure and ageless love.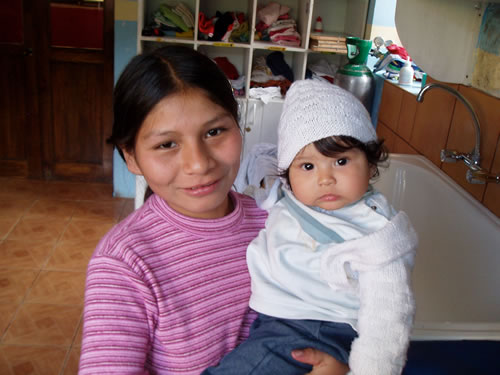 Caro and daughter in Peru.
More on Volunteering in Peru
La Casa de Acogida Mantay
Directors: Sergio Velasquez and Raquel Garcia
Address: Calle Hospital s/n, San Jerónimo, Cusco, Peru
Telephone: (+0051-84) 277-614
Website: www.mantay.org
Volunteersouthamerica.net—a website that provides links to free and affordable grassroots volunteer projects/organizations throughout South America.
Fairplay Peru—a Peruvian organization offering Spanish classes, homestays, and volunteer work in Cusco. The organization is comprised entirely of single mothers.
Cruz Del Sur—the only truly safe and reliable bus company in Peru. When traveling by bus, always pay the extra few dollars to go on Cruz Del Sur.