How to Start as an Intern Abroad and Become CEO
By Troy Erstling
10/30/2017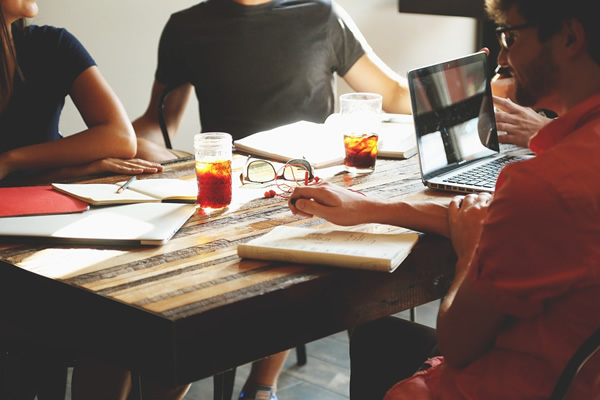 A potential startup can meet and brainstorm almost anywhere during or after your internship abroad.
How taking an unpaid job in a foreign country led me to start my own company — and how you can do the same
My name is Troy Erstling, Founder, and CEO of BrainGain.co — a recruitment agency that helps people find international work and internship opportunities.
Five years ago, like many who want to travel and live abroad, I started my career as an English teacher in Seoul, South Korea.
Today I am living in Rio de Janeiro Brazil, working remotely, with a team of seven people spread across multiple geographies. To date, we have placed over 50 people from 20 different countries in jobs such as Digital Marketing, Sales, Business Development, Software Programming, and Design. I am completely location independent and can work wherever my heart desires.
How did I get to this point? Here is my story.
Teaching English in South Korea
I graduated from the University of Arizona in June 2011 with a desire to work abroad. If you're on this website you probably already know that Teaching English is the easiest way to get your foot in the door for an international experience, so that's what I decided was the best path.
I took a job in Seoul, South Korea, where I would spend the next year teaching English to Kindergarten students. Paid round-trip airfare, paid accommodations, attractive salary, and medical insurance all part of the package — a sweet deal.
Decision to Make a Work Transition
Unfortunately (or fortunately depending on how you look at it), I quickly knew that I didn't want to be an English teacher long-term. I've always had an interest in starting businesses and considered myself very entrepreneurial. While teaching was very fulfilling work, I was craving a larger challenge.
However, the road to transition from teaching English isn't always an easy one. Should I go back to the US and find a job there? Should I find another international job in a new country? What type of job did I even want?
Questions surrounding what I was going to do with my life quickly piled up and left me frustrated about where to go and what to do next.
One day I messaged a friend of mine who was living in Spain, also teaching English. I asked him what he was working on, and he informed me that he had since moved to Bangalore, India, where he was part of a Social Enterprise Fellowship.
He told me about the program, the type of work he was getting involved in, and the various projects that he was now involved in as a result of joining this program. It piqued my interest.
I decided to apply for the next cohort of the fellowship. It seemed like a wonderful way to transition away from teaching English and get myself involved in something meaningful and with impact.
How I Found an Internship in India
Although it was unpaid, I had enough savings from working in Korea to support myself for the 6-month fellowship if I were accepted. I submitted my information and crossed my fingers hoping for the best.
Shortly after I submitted my information, I was interviewed and ultimately accepted into the program. I was placed in Bangalore, India. I would work with an organization that provided Entrepreneurship Education to students who wanted to start their own business.
My role? I would help them expand the program to other parts of Southeast Asia. It seemed like my dream job and a fantastic opportunity to learn about entrepreneurship, startups, social impact, Southeast Asia and more. I was thrilled!
My friend? He applied to be the manager of the program and got the job - and was placed in Bangalore with me! Not only did I have the opportunity to immerse myself in a new country, but I also had the opportunity to have a friend guide me throughout the process. Win-Win.
Networking While Interning Abroad
I went to India with an important mindset — HUSTLE. I knew that six months would fly by, and if I didn't create an opportunity for myself, I would be back at square one. I refused to let that happen.
I also knew that while it would be great if the company offered me a job after the internship, I didn't want to put all of my eggs in one basket. I wanted to give myself as many options as humanly possible so that I had a choice six months later, rather than an ultimatum.
Therefore, I put my plan into motion and began going to every networking event that I could find.
The first event I went to was a business plan pitch competition. At the event there was one judge who was incredible at asking good questions and grilling the startups. I became determined to meet him once the event was over.
When the pitch contest was over, I approached him, complimented him on his questions, and expressed my interest in learning from him. Upon hearing about my enthrallment, the judge instantly smiled and said to me, "you know what, I know these two American entrepreneurs who started a car-sharing company here in India, I think you would get along very well with them. Here's my card, email me, and I will make an introduction for you."
Boom.
I followed up, and the judge introduced me to the founder of a company called Zoomcar based in Bangalore. It was founded by two Americans who dropped out of school to launch the company and received US$1 Million in funding. Given my interests in starting a business internationally, I had found the perfect people to help me towards my goals.
We agreed to meet up and discuss options for how I could get involved. One of the founders expressed that they needed someone for Blogging/Content Writing/Social Media management, and he thought this would be a good place for me to contribute. He knew that I didn't have any experience in the role, but was willing to give me the opportunity to learn.
Deal.
Life Abroad with Two Jobs and More Prospects
Now I was suddenly working one full-time job and one part-time job, all in less than one month of my arrival. I was feeling great.
For the next six months, I worked those two jobs while also networking and meeting as many companies as I could. While working with the Entrepreneurship education company I made reliable contacts throughout Malaysia, Thailand, and Indonesia. While working with Zoomcar, I developed my marketing skills. When I wasn't working on those two projects, I was cultivating other ideas in my head as well. I was in full-time hustle mode.
How I Found a Better Job Offer
By the end of the six months, I had a job offer from each company. I was even toying with the idea of starting my own. In the end, I negotiated for a salary that the Entrepreneurship company couldn't match, so I went with Zoomcar.
After around six months of working with Zoomcar, friends began reaching out and asking me how I found the job. They would say, "I want to work abroad, but all I see is teaching English or Volunteer work. I'd love to work for a startup also if you can help me." Alternatively, "I want to continue working abroad but don't want to teach English anymore, can you help me transition?"
How I Built My Own Company
With this in mind, I realized that there was a business opportunity helping people find jobs abroad. The current options online were all teaching and volunteer work. There were websites for finding jobs abroad, but no one would help you with your visa or becoming settled, which deterred many people from taking that route. I saw that there was a gap to be filled, and believed that I was the one who could fill it.
At this point, I had built up a solid skill set in Digital Marketing, had connections in different countries around the world, and was in a country where I could start a pilot with little to no up-front cash investment.
Just like that, BrainGain was born.
Expanding the Company Abroad
I went to work on lining up companies in India who would be interested in recruiting foreign talent. I asked the companies what type of roles they were struggling to fill, and if I could find people for them from outside of the country. I then asked what those companies would be willing to pay me to send the people. I received green lights all around, and the business model was finally in place.
Within six months I had 10 companies to recruit for, a website built, a fully incorporated company and a trajectory ahead to begin connecting talent from top U.S. universities to Indian startups. The pilot was underway.
I went back to the U.S. that year as a man on a mission. I spoke at Harvard Business School, Cornell, Rutgers, UPenn Wharton, and Northeastern to tell students about the jobs we had available. Given that not even one year ago I was just moving to India to start my journey as an unpaid intern, I was in utter disbelief about how much I was already accomplishing.
Nonetheless, I was more motivated than ever to get things done in a big way. The first year we brought 25 people to India in our inaugural batch. The next year we expanded to Malaysia and made another 25 placements between India and Malaysia. By January 2017, we were profitable, and I decided to start expanding to new countries.
Today we're now recruiting in Australia, Netherlands, Spain, Germany, Singapore, Jakarta, Malaysia, India, and for remote companies as well.
After living in India for nearly three years, I was now location independent and had a business that allowed me to work from wherever I wanted to in the world. It's a small company, but it allows me to live a great lifestyle the way that I want to, on my own terms. While I could have raised money and built a huge company, I ultimately decided not to because my lifestyle of living and working abroad was more important to me.
Please understand though that along the way I made more mistakes than I can count. I don't want to make this story seem like it was an overnight success because that is a far cry from the case. Three years into the company, I still feel that in many ways, I'm at ground zero.
However, this story isn't about entrepreneurship and the lessons associated with starting a business. It's a story about hustling and creating opportunities for yourself while living in a foreign country. A story about networking, determination, and keeping an eye open to new opportunities. A story about how I transformed an internship into a lifestyle business in three years.
I also want to express that I am not the only one who was able to accomplish this type of trajectory. I have several friends who took a similar path in life and are now in equally interesting places.
Here are some examples of successes:
ALL of these people started with an unpaid internship in a foreign country, and are now the founders of their own companies. ALL of them went from intern to CEO.
If you follow the lessons learned in this story, you can do the same.
What Are the Lessons You Can Take from My Story?
(1) Keep in touch with everyone you meet while traveling who appears to have a professionally oriented attitude and aptitude. While you will meet many travelers, it's much harder to find entrepreneurs who are hungry to do business in foreign countries. When you find these people, do everything you can to build a meaningful relationship.

2) Don't put all your eggs in one basket. I see many interns who bank on being offered a job after their internship, and while it does happen, it's not foolproof. Don't limit yourself to the one company that brought you there. Seek out other companies and other opportunities as much as you possibly can.

3) Network, network, network. The more people you meet, the greater the chances you have to create an opportunity for yourself. I got the job at Zoomcar due to networking. I started my company after a Venture Capitalist I met at an event encouraged me to do so. I lined up my first 10 companies in India because of my previous relationships. Build relationships with people, and the opportunities are sure to come.

4)Scratch your own itch. I started BrainGain because I wanted to build what I didn't see in the world. In solving the problem of finding a job abroad for myself, I realized that I could help others do the same. I found people who had the same problems I was experiencing and helped them overcome their struggles. You can do the same. While entrepreneurship isn't for everyone, finding companies that are solving problems you have experienced yourself is a great way to discover a company mission that appeals to you and work with people who also share your interests. Follow your favorite pursuits as much as you can.
If you follow your guiding inspiration and method, I guarantee it will lead you to wonderful places. Take an internship abroad, network, create opportunities, and then build your own. Live the international lifestyle and pursue your dreams.
Valeu! Chau from Brazil!