Teaching English to Professionals in Cape Verde, Africa
The Language Link Organization Makes a Difference
Article and Interview by Ann Brown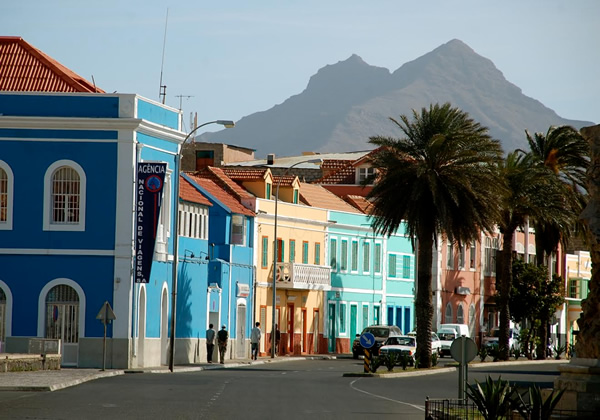 Sao Vicente, Cape Verde. Photo courtesy Lies Ouwerkerk
I came to the West African island nation of Cape Verde in 2010, and landed in the capital city, Praia, on the island of Santiago. When I first met Jacob Cullen at a café/restaurant in a part of town called Fazenda, I said to myself "Wow, an American." Not that Americans were scarce in Cape Verde. At the time, the city of Praia and its surroundings were teeming with Americans who where volunteers with the Peace Corps (the Peace Corps has since completed its project in Cape Verde).
Yet you hardly ever see an American in Fazenda anymore. And it was not just Cullen; he had a table full of American men with him.
We all got to talking—about music, life in Cape Verde, about America. What I discovered was intriguing. Michigan-bred Cullen first came to CV (as it is called in Cape Verde) as a Peace Corps volunteer. After his stint, which spanned 2004 to 2006, he decided to lay down roots in this former Portuguese colony. During this period he met a Cape Verdean born woman, named Vanda, who would eventually become his wife and business partner.
The resulting business venture is a company that teaches business English to Cape Verdean professionals. Language Link was founded in 2008 by Jacob; Vanda, a lawyer by trade; and another American, Derek Moon, who was sitting with Jacob that night in Fazanda.
Today, Moon, who hails originally from Michigan as well, is the company´s online program manager. Mareika McLaughlin, who hails from Dover, Massachusetts, has since come on board as Language Link´s Chief Instructional Designer and Instructor.
Teaching was not anything new for Cullen—he had taught at Western Michigan University and in the Michigan State Public School system.
Why the need for business English in the Portuguese-speaking country? There is an urgent necessity as Cape Verde, which spans an archipelago of 10 islands, is a fast-growing country taking a more prominent place on the global stage. There are many foreign companies in Cape Verde, particularly of Chinese, Italian, and Portuguese origin. Yet there are very few companies owned and operated by Americans.
Cullen was not the first one with the idea of teaching English in Praia. Among his competitors are the English Language Institute (ELI), Prime, and EFA (English For All). The universities also offer English courses. Then there are private English tutors. They all teach general English courses. And while Language Link is more expensive than the others, it is the only organization featuring all Native English speakers.
Recently, I sat down with Jacob and Vanda at their home/office to get the scoop behind Language Link and how it is involved in building a business in a foreign country.
Q: What niche did you want to fill?
Jacob Cullen: "Having worked with ELI and the university system, I saw major gaps in the way English was being taught. I wanted to bring a higher standard, a higher level of teaching. Our instructors are all native English speakers with teaching experience. We may cost more than our competitors, but when you finish a course with us you can conduct business in English. We don´t take short cuts, our classes are demanding and more complete."
Q: Is there anything else that makes you stand out from the competition?
JC: When we first started we decided to be very customized. Our professional English courses are tailored to the client´s industry. If you are in banking, we focus on banking terms and the English necessary for that industry.
Q: Teaching business English is your core product, but does Language Link offer anything else?
JC: We also have a translation service. In fact, we are the main translator for the Central Bank."
Q: How do you promote Language Link to get clients?
JC: We target and focus on our market and choose with whom to do business—such as state agencies and ministries as well as the larger industries such as banking, pharmaceutical, and insurance. Most of our business is through word of mouth.
Q: Did you receive much help from the American Embassy?
JC: No. Only recently after four years of operation have we been able to get to the U.S. Embassy. We have gotten some positive feedback from them and look to possibly partner with them on various projects in the near future.
Q: What were some of the obstacles you faced with the business?
JC: One of our biggest struggles has been financial planning. It is important for new companies like ours to be able to make it through those first crucial five years. We have been able to continue to fine tune and develop new products as well as invest in upgrading our technology.
Q: How is being in a business with your mate?
Vanda Cullen: When we have to deal with issues we can discuss them right away. We can resolve situations immediately. Sometimes, however, it is difficult to separate work from our married life.
JC: I´ve learned that I am CEO during office hours and Vanda is CEO after hours. But seriously, for me one thing about working with a spouse is that you are working with someone you trust.
Q: Any new developments?
JC: Blended Learning is one of our newest products. Blended Learning courses can be taught online through an interactive program we created that can be accessed worldwide. We are looking to expand our services throughout all of Cape Verde, beyond the island of Santiago where we are located. We are also looking to expand to other countries in Africa as well as other Portuguese-speaking nations, such as Angola.
Q: Do you get involved in the community?
JC: Instead of being a charity based organization, we use our profits to give back to the community through movie night, to scholastic and women´s organizations. Through Language Link we host a weekly Movie Night, showing English-language documentaries.
Cullen´s advice for other expats considering launching a business abroad:
See Language Link's website for more information.
Ann Brown is a New York-born freelance writer now living in Cape Verde. She covers business, lifestyle and entertainment for various publications.