How to Find Paid Work Abroad
6 Key Questions to Ask Before Your Job Search
By Troy Erstling
Resources updated by Transitions Abroad 8/28/2023
There is work in the financial centers such as Frankfurt in the EU.
I have lived and worked for the last seven years in Argentina, Korea, India, and now in Kuala Lumpur, Malaysia, where I am based. For the last two years, I have been helping people find international jobs, primarily with tech startups and social enterprises/NGO's. In the process, I have learned a great deal along the way.
Among my inner circle of friends, I'm the go-to person if they know someone who is interested in working abroad. Whether that's teaching English or finding a job with a startup, I normally receive 1-2 messages a day asking me "How can I work abroad!?"
At this point, I've been able to distil and refine the first questions I ask. The six questions below are the most important to ask yourself if you are serious about pursuing international jobs, in my view:
1) Are You Willing to Find a Job Once on the Ground?
Six years ago, when I graduated from the University of Arizona, I wanted to work in Brazil as an English teacher. I had my TEFL certification, was determined to make my dreams a reality, and knew a friend who was already working in the country and establishing relationships.
Why didn't I end up going? Because it's difficult to land a job in Brazil from your computer. To find a job I had to buy an expensive ticket and create opportunities once I arrived. After four years of a college education, my parents weren't exactly comfortable with the idea of buying a one-way ticket to Brazil so that I could "figure it out." Long story short, I ended up finding a job in South Korea instead because I was able to secure a job from my computer.
If you're willing to land on the ground and hustle, you can find a job pretty much anywhere in the world with some persistence. If you're from the US/Canada/EU, it's relatively simple to get a tourist visa to most countries, making it easy to show up and figure things out from there. Networking opportunities are plentiful, and if you've been studying the local language you'll be in an even better position. You will probably get paid under the table to begin with, but if you were to go and survey 100 people currently working abroad you would find that most of them started out this way.
If you're not comfortable with the uncertainties of landing on the ground and figuring it out, then your approach will be much different. You will have to figure out in which countries you can obtain a visa, which websites can help you in your hunt, and decide upon the type of job you're seeking in advance.
2) Where Can I Get a Visa to Work?
I frequently have people reach out to me with a story along these lines… "I applied for a position online, went through four stages of the interview process, negotiated my salary, was offered the job, and then it all fell apart at the end because we discovered that the company couldn't figure out how to get me a visa."
Don't fall into this trap. If you're from the U.S. or Canada, it's very difficult to get a visa to work in Europe. If you're from India, China, or another emerging market, it's even harder to get a work visa in the U.S., Canada, or the E.U.
Before you start your hunt, perform research on where you will be able to get a visa. I took the job in South Korea because English Teachers fall under the qualifications for a Work Visa and I was able to get the necessary documentation. After this experience, I worked in India because once again, I was able to get a visa.
Do your research, and if the information you find is conflicting, approach the visa question early on in your interview process. You don't want to waste time with companies who won't sponsor your documentation.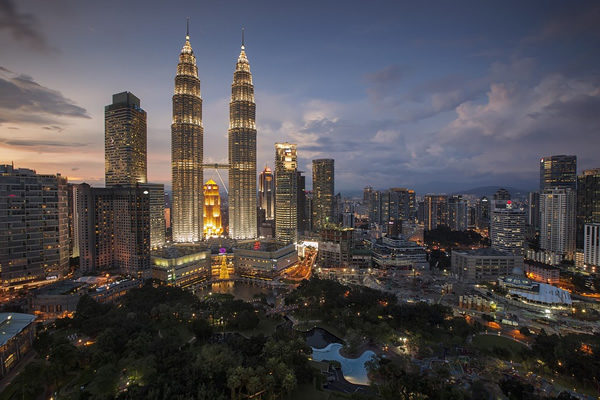 Skyline of Kuala Lumpur, a bustling city in Southeast Asia with tech startup work.
3) Where DON'T You Want to Work?
Yes, you read that correctly. I normally ask people where they wouldn't work, as it's much easier to go through the process of elimination by crossing countries off your list than it is to start with a long list of countries where you probably won't be able to find a visa. Through the combination of questions including a) "Where can I find a visa?" and b) "Where wouldn't I be willing to work?" you can normally narrow your list down to a few targeted countries.
If you're willing to work anywhere, even better. The world is your oyster and adaptability is your middle name. Search everywhere you can and find the role best suited to your interests and skill sets.
4) How Much Do I Want to Save?
Living in South Korea and India taught me a valuable lesson about differences in the cost of living. Although I was only making $2,000/month in South Korea, and $1,000/month in India, I was able to save money on a monthly basis because my costs of living were around $1,000/month and $500/month respectively. When I took salaries at face value they seemed low, but looking at salaries from the perspective of potential savings made me realize that I was saving more than if I had stayed home in the first place.
When looking for jobs abroad, try to look at your pay from the perspective of desired monthly savings rather than total salary. Doing so will help in salary negotiations, and also provide a general framework for the type of jobs you are/aren't willing to do. It's far easier to find a job that will allow you to break even than it is to find a job that will enable you to save money, so that will affect your search dramatically.
5) What Jobs are of the Greatest Interest?
Finding a job as an English teacher, Au Pair, Bartender, or working on an organic farm, is a much different search than finding a job in Digital Marketing or Software Development. Be honest with yourself about your primary motivations for finding a job abroad. Is traveling your priority, or is professional development?
There are plenty of websites out there for unskilled jobs, volunteering, and cultural exchange such as Workaway and WWOOF, and Teaching English via Dave's ESL Cafe, but much less out there for a job that will be suited to your immediate career goals. Idealist.org is useful for Social Enterprise/NGO/Non-Profit jobs that can serve as a gateway to long-term jobs and even a career. Search platforms I like to use in this era of the well-paid digital nomad and remote worker include Upwork, Digital Nomad World, Flexjobs, RemoteOK, Contena, and many other job boards popping up daily for such work to respond to new location-independent opportunities, especially post-pandemic.
Editor's note: Transitions Abroad offers hundreds of articles and resources covering a wide variety of types of work abroad allowing for many ways to live overseas. Please feel free to explore the site for first-hand stories, specific employers, and country resources.
6) When Can I Begin the Job Search?
I started looking for a job abroad immediately after I graduated from University in June 2011, and didn't move to Korea until March of 2012. The process can often take time, and if you need to have money in the bank to support the initial costs of relocation, you will want to give yourself ample time to build up a solid financial foundation.
Provide yourself sufficient time for the search and don't rush to find just "any" opportunity—make sure that you choose the RIGHT opportunity. On average, I have noticed that it takes someone about six months to find a job and relocate from start to finish, so make sure that you're realistic about your time-frames and don't rush through the process.
* * *
Asking yourself these six questions in advance will help save a lot of frustration throughout the search. There's a timeless expression, "measure twice, cut once," and the same applies for your international job hunt. Be precise about what you want, what your goals are, and when you can make the transition, and you'll save yourself much of the anxiety associated with looking for a job abroad.
Have any tips that have worked well for you? Let me know in the comments section below! If you have any questions or concerns, I would be most happy to help.