Learning about Burgundy Wines on a Budget
Combine Cycling Through the Vineyards and Drinking Fine Wine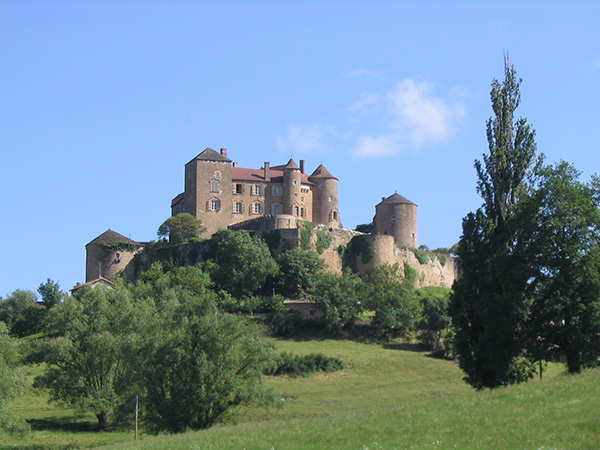 Along the Voie Verte in Burgundy.
Wine connoisseurs regard Burgundy wines as among the world's finest, and they are priced accordingly. A recently released bottle of Clos Vougeot, for example, sells from $80 to $100, and prized bottles command five-figure prices. Budget-minded independent travelers can going to France can learn much about Burgundy wines, however, by visiting Marché Aux Vins in Beaune and by cycling through the vineyards of South Burgundy. Both experiences are inexpensive, fun, and provide opportunities to meet local people involved with the wine industry.
Marché Aux Vins
Marché Aux Vins is located in Beaune, the heart of the Burgundy region. The town, known for its historic hospital, Hôtel-Dieu, is south of Dijon and north of Lyon and easily accessible by train. Marché Aux Vins is located adjacent to the Hôtel Dieu. For 10 euros, the visitor receives a "tastevin" and permission to spend one hour tasting wines. Each tasting is done at a "station"—a candle and wine bottle placed on a barrelhead; the stations are about 15 feet apart. The first group of stations is located in the wine cellar and the remainder in the dimly lighted chapel of the ancient Cordelier's Church.
When I visited Marché Aux Vins, I tasted wines with legendary names, such as Nuits-Saint-George, Pommard, and Chambolle-Musigny. I learned that all of the red wines were made with Pinot Noir grapes and shared a raspberry taste with hints of other flavors, such as cherries and black currants. Distinguishing among them was difficult for me, however, and the sommelier who answered my questions at the end of the tour helped me to clarify my impressions.
The Office de Tourisme de Beaune provides helpful information about lodging and restaurants.
South Burgundy's Voie Verte
"Voie verte" means "greenway" in English. In France, these greenways are paved trails open only to cyclists, rollerbladers, walkers, joggers, and farm machinery. Parking lots, water faucets, lavatories, picnic grounds, shaded rest stops, benches, bicycle parking, and bicycle and rollerblade rental facilities are often available. Although voie vertes exist in several regions of France, the one in France's Saone-et-Loire Department, otherwise known as South Burgundy, offers another budget opportunity for independent travelers to learn about Burgundy wines.
This trail has two parts: A southern section stretches from Charnay-les-Mâcon in the south to Givry in the north. The Bois Clair Tunnel, the longest tunnel in Europe to accommodate a greenway-type facility, is located on this part. Another section borders the Canal du Centre and consists of trails between Saint-Léger-sur-Dheume and Chalon-sur-Sâone in the north and between Digoin and Paray-le-Monial in the west.
Traversing two of Burgundy's wine regions, the Mâconnais and the Chalonnais, the southern section provides the most variety for the budget oenophile. Many of the old train stations on the greenway have been converted to bicycle rental facilities and the largest and most accessible of these facilities is located at Cluny, which provides a convenient base for forays into the vineyards. Independent travelers do not need a car to reach the town. They can travel to Mâcon by train from Dijon, Beaune, or Lyon and take the bus from the train station to Cluny.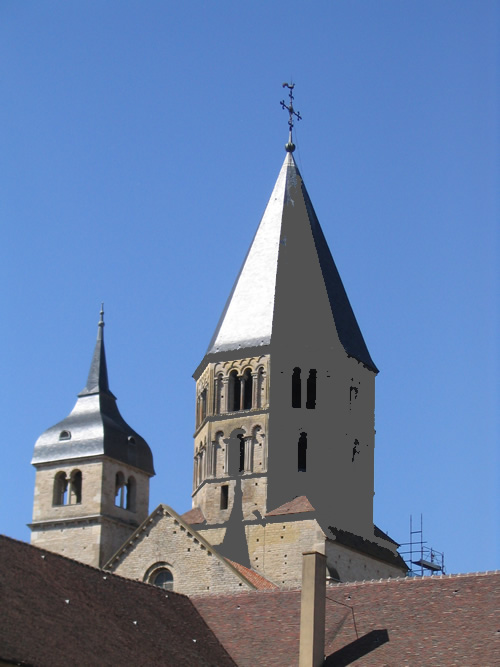 The Abbey of Cluny in Burgundy.
The old train station, now the bicycle rental office, is located at the town's southeastern edge. Although most tourists who come to Cluny go immediately to the town's center and visit its abbey and the remains of its Romanesque church, once one of the largest and most architecturally influential in Christiandom, or focus their attention on equine events that occur on the town's northern end, they often overlook a simpler monument at the front of the old station, which deserves attention as well: it lists the names of 31 Cluny residents and 10 "foreigners," all Jews, who were deported to concentration camps by the Nazis in 1944. Across the street from the old station, Hostellerie d'Heloise provides lodging for visiting cyclists and will keep their luggage secure until they return from a two- or three-day foray into other parts of the region.
Southeast of Cluny, a well-marked touring loop takes pedalers through the heart of the Mâconnais, and the circuit can be completed in a day. Spending the night with a wine producer, however, enhances the oenophile's experience. The website for Gites de France lists many chambre d'hôtes (bed and breakfast lodgings) under the "Vignoble Maconnais Beaujolais" heading.
Reserving a room in advance is advisable, but sometimes a lack of planning leads to interesting surprises. On Mother's Day in 2005, I was cycling from Pont-de-Vaux to Cluny. I had stopped at a restaurant for lunch and learned that every table was reserved; I found the same situation at the next restaurant that I visited. Finally, at Au Pouilly-Fuisse, the manager created a place for me on the terrace. I was delighted; the weather was perfect for alfresco dining. I struck up a conversation with the waitress when she came to take my order, and she asked me if I had lodgings for that night. When I said that I didn't, she asked me if I'd be interested in staying at a bed-and-breakfast in Vergisson, which was located about 10 kilometers west. I said, "Sure," and she called the owners for me. After a wonderful lunch, I pedaled westward and found my lodging, which was located on a vineyard—my room was above the wine cellar!
I arranged to sample the wine that was produced at my bed-and-breakfast on the following morning. The Pouilly-Fuisse that I tasted was aromatic and flavorful—more appealing to me than the St. Veran that I had drunk with my wonderful lunch on the preceding day. I recognized the taste of pears, but I couldn't find the words to describe the bouquet. Later that morning, as I cycled toward Cluny, I passed a large bush with white flowers and inhaled its fragrance—it was the same as the wine that I had tasted! Now I knew how to describe the taste of one great Chardonnay—pears and white flowers.
Spending another day in the Mâconnais enables cyclists to visit Puilly-Fuisse and St. Véran and to dine at a restaurant like Au Pouilly-Fuisse where many local winemakers eat. Cyclists in their Lycra shorts and jerseys are always welcome, but they must remember that a French lunch beginning at noon may not end until 3:00 and no one goes to supper before 7:30.
Cycling north from Cluny on the Voie Verte enables budget oenophiles to tour the Chalonnais region. The town of Givry is known for its Pinot Noir; Montagny for its Chardonnay. Again, cyclists can complete the circuit in a day, but by spending another day in the area, they can explore Mercurey, Bouzeron, and Rully appellations as well. These vineyards are located a few kilometers north of Givry.
Cycling in the Chalonnais, a region relatively unknown to most Americans, also taught me a lesson about wine pricing. I had read that the small town of Puligny-Montrachet, which is in the Burgundy region, produced some of the best white wines in world and I knew that they were priced accordingly. One morning I cycled to the town, went to the local "cave," and, for 5 euros, tasted three Puligny-Montrachet wines. Yes, I liked them, but they were beyond my budget. I continued south about 15 kilometers to the small town of Rully and stopped for lunch at Le Vendangerot, a restaurant in the town's center. I drank Rully wine with my meal. I liked it as well as I liked the Puligny-Montrachet wines, and it was available at a fraction of their prices! By depending more upon my own taste buds when buying wine than following what others told me, I could find better wine values!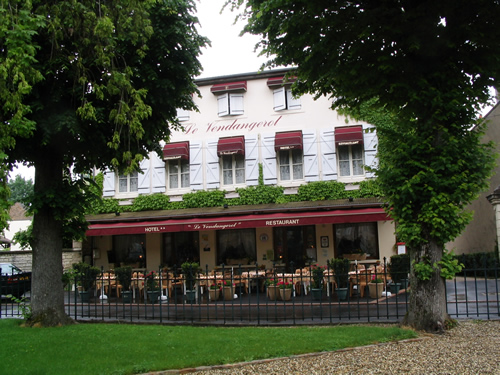 Le Vendangerot in Burgundy.
Learning about wine is not Burgundy's only attraction. Romanesque churches dot the landscape and the seventeenth-century chateau at Cormatin, located next to the Voie Verte, is one of France's best examples of its type. Burgundian cuisine is world renown, and the hospitality of Burgundians is legendary. Best of all, independent travelers don't need to spend a fortune to take advantage of all that it offers!