Cultural Travel and Alternative Tours in Greece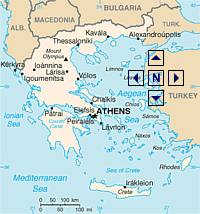 Astra
Astra Excursions & Sojourns in Greece now offers four programs, each designed to make every trip a unique, intimate, personal odyssey. We offer co-ed & women-only trips including a Village Sojourn.
Visit: www.astragreece.com
Biblical Archaeology Society
Adventure in Aegean Archaeology (with cruise). Whether your interest is in the lost civilization of the Minoans, the splendor of classical Athens, the political turmoil of the Hellenistic period, the rise and rule of Roman Empire, the early development of the Jesus movement and the New Testament, or the stunning success of Byzantine Christianity, this tour's for you!
Visit: www.biblicalarchaeology.org
Nikki Crete's Culinary Sanctuaries Eco-Agritourism Network, 6-Day Seminar in Crete, Greece
The Magnificent West: Wild Nature, Organic Food Production, Traditional Cuisine
Experiential learning program for researchers of sustainable organic agriculture, traditional cuisine and healthy cooking techniques. On-site visits with organic farmers, olive oil, wine, artisan food producers and botanists. Artisan food production and chef demonstrations. Presentations and accommodation provided by a noted sustainable community-based tourism project. A unique opportunity to support grassroots cultural-natural preservation projects in Crete while gaining beneficial knowledge.
Visit: www.cookingincrete.com
Skyros Holistic Holidays
Offers 10-day course-based holidays on the magical Greek island of Skyros. Learn windsurfing, photography, street theatre, comedy improvisation, yoga, sketching and painting and so much more.
Visit: www.skyros.com