Cultural Travel and Alternative Tours in Eastern Europe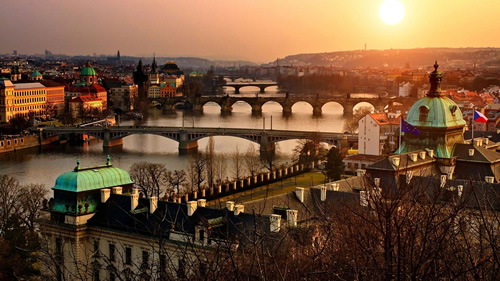 Trans-Siberian Railway Journey
Trans-Siberian Railway is a must-do for everyone looking for an adventure of a lifetime! Join one of the world's greatest train journeys to explore Russia's complexity and diversity. Get to know the biggest country in the world with its stunning nature and vibrant cities. Travel across several time zones and see Russia from different perspectives.
Dates: You can take this trip any time of the year, depending on what kind of experience you would like to have. Trip itself will take around 20 days and totally worth it!
Cost: Starts from 2500 USD (depends on program, number of people, number of days).
Contact: ExploRussia local tour-operator, Moscow, Khokhlovsky lane, 7-9
Tel.: +7 903 7208398
Email: welcome@explorussia.com
Website: www.explorussia.com

Featured
The Balkans: Slovenia, Croatia, Bosnia, Montenegro, Albania, Macedonia, Kosovo, Serbia
The Balkans Tours offer an immersion into old world Europe. Explore the vast cultural and ethnic diversity and enjoy abundant natural beauty including the former Yugoslavia, quaint villages of the Adriatic, the Istria Peninsula, Albania — undiscovered gem, a former enclave of the Ottoman Empire.
Select the module based on your interests and time: Balkans Comprehensive (32 days), Balkans Explorer (22 days), Historic Villages of the Adriatic (17 days), Albania with Macedonia, Kosovo and Serbia (17 days), Albania — end in Macedonia or Kosovo (12/13 days).
Dates: Twice annually: May-June and September.
Cost: Approximate; check our website or call for exact prices. Slovenia & Croatia (11 days): $3550; Explorer-six countries: (22 days): $5485 Albania-Macedonia-Kosovo-Serbia (17 days): $4150; Comprehensive-eight countries (32 days): $8600.
Contact: Original World, 930 Irwin Street, Ste 222, San Rafael, CA 94901.
Tel.: 888-367-6147.
Email: inquire@originalworld.com
Website: originalworld.com/Balkans-Albania-Adriatic-Tours/

Featured
Bulgaria and Romania
Nestling at the heart of Central Europe and occupying the eastern part of the Balkan Peninsula, Bulgaria is a land of unspoiled natural beauty, where time has been known to stand still. Highlights of our tour include: cultural and historic monuments, museums, art galleries, Bulgarian icon-painting heritage; four UNESCO sites. May 31 tour includes Rose Festival.

Romania conjures visions of picturesque villages, folklore and crafts, unspoiled countryside and the charm of friendly people living their traditional ways. Highlights include: medieval Transylvania, Gothic architecture, unique painted monasteries palaces, castles, an opportunity to live in a small village and mingle with the locals, the Carpathian Mountains; six UNESCO sites.
Dates: Multiple departures April thru October.
Cost: Bulgaria 8 days: $1710, Romania 12 days: $2555; Bulgaria-Romania combined: $4060*.
Contact: Original World, 930 Irwin Street, Ste 222, San Rafael, CA 94901.
Tel.: 888-367-6147
Email: inquire@originalworld.com
Website: originalworld.com/Bulgaria-Romania-Moldova-travel/

Featured
The Baltics Immersion: Estonia-Latvia-Lithuania
Discover the Old World European charm of the Baltic Countries. The old cobblestone historic towns and quaint villages couple with astounding beauty and remarkable sites. An immersive tour with full days yet a leisurely pace. Our 14-day tour starts with arrival into Helsinki and travels by high-speed catamaran to Tallinn. We enjoy 2-3 days in each town including Tallin, Cesis, Riga, Klaipeda and Vilnius. For a long tour take the high-speed train from Vilnius to join our Belarus-Ukraine-Moldova tour. $200 discount for booking both tours.
Dates: Twice annually: May and September
Cost: Approximate $3700; check our website or call for exact prices
Contact: Original World, 930 Irwin Street, Ste 222, San Rafael, CA 94901.
Tel.: 888-367-6147.
Email: inquire@originalworld.com
Website: originalworld.com/travel-to-baltics-tour-in-depth—estonia-latvia-lithuania

Featured
Belarus-Ukraine-Moldova
We start with an exploration of the ancient Slavic country of Belarus, located in the geographic heart of Europe. The in-depth tour visits important cultural and historic cities including the marvelous capital Minsk, Vitebsk (where Chagall was born/ lived), Polotsk and Brest. Located in SE Europe, Ukraine is the second largest country of the continent after Russia, but one of the least-known. Here we enjoy the delights of L'viv, Kyiv and Odessa. Entering Moldova, we stop in Tirispol, center of the self proclaimed Transnistria; continuing to Chisinau, capital of Moldova. Moldova is a very small country, north of the Balkans, surrounded by Romania to the SW and Ukraine to the NE. We visit Chisinau's cultural sites plus day excursions to the surrounding villages enjoying pristine countryside, friendly local people and tasting their fabulous wines! Moldova is fairly new to tourism, so you will be among the first to catch a glimpse of traditional lifestyle still at the crossroads with modernity.
Dates: Twice annually: May and September.
Cost: Approximate $4650; check our website or call for exact prices.
Contact: Original World, 930 Irwin Street, Ste 222, San Rafael, CA 94901.
Tel.: 888-367-6147.
Email: inquire@originalworld.com
Website: originalworld.com/tour_belaraus_ukraine_moldova

Featured
Treasures of Poland
An in-depth 17 day diverse itinerary geographically as well as historically. We visit seaports, the Tatra Mountains, tucked away villages, historic cities and UNESCO sites, tracing the fascinating history of this beautiful, old world country. Traveling beyond the typical tours to Warsaw, Kracow and Auschwitz, the tour additionally includes Zakopane, Wroclaw, Poznan, Torun, Gadansk and Malbork. We enjoy a Chopin concert at the fabulous Lazienki Park, tour the famous Wieliczka Salt Mine, stroll charming Zakopane, tour the fortress of the Teutonic Knights, and appreciate extraordinary architecture from Gothic, Renaissance and Baroque periods. Poland remains a hidden gem with so much to offer, yet it is a country not usually on travelers first tier list, (unless you have Polish heritage). The leisurely pace, easy walks, wonderful hotels, 2-3 nights in most cites plus the immense educational as well as cultural experience  make an immersive visit to Poland an excellent tour for seniors.
Dates: Twice annually: May-June and September
Cost: Approximate $4600; check our website or call for exact prices
Contact: Original World, 930 Irwin Street, Ste 222, San Rafael, CA 94901.
Tel.: 888-367-6147.
Email: inquire@originalworld.com
Website: originalworld.com/travel-to-Poland-tour

Featured
artbreak™ Arts Immersion Vacations in Prague
artbreak™ is a unique, total arts immersion experience for adults who love the arts. artbreak™ provides intimate access to Prague's artistic world via hands-on morning workshops with local artists, afternoon gallery visits and wine tasting, plus evenings at the opera, symphony, ballet, plus Prague's renowned jazz clubs. Our unparalleled six-day vacations renew the heart, mind, and spirit – and the wonders of Prague come included.
Contact: info@artbreak.org, www.artbreak.org
Sail Croatia
7-Day sailing adventures in the Croatian Islands suitable for independent travelers.
Contact: sales@sail-croatia.com, www.sail-croatia.com