The Agriturismo in Italy
Italian Farmstays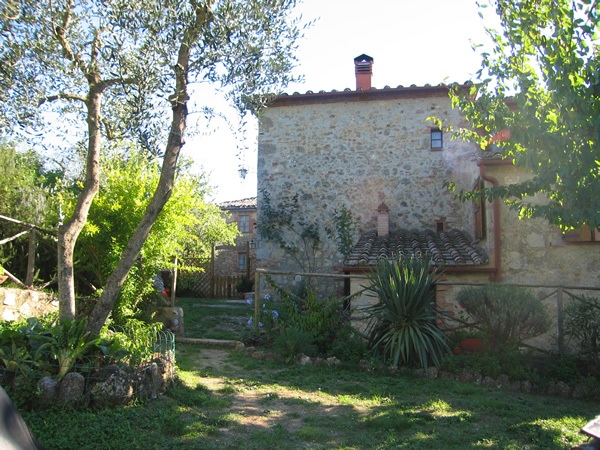 Agriturismo Olivello in Tuscany
"Agriturismos in Italy...offer the chance to step away from the intensity of city life and into the earthy elegance of the countryside. These rural B & Bs—typically on working farms—provide a great home base, ideal for couples or families traveling by car.
Some agriturismos are simple and rustic, while others are downright luxurious, offering amenities such as swimming pools and riding stables. The quality of the rooms varies, but they are always clean and comfortable. Most places serve tasty homegrown food. Some are vegetarian or organic. Others are gourmet. You may sit down at the table with your host family or cook up your own dinner in your kitchenette. You'll find agriturismos that offer cooking classes or horseback riding lessons and those that simply set you free on the surrounding hiking trails. It's up to you to sort out how much action you want and to find the place that suits your style.
Listings on the Web typically fall into three categories: catalog listings from established rental agencies, local or regional listings from cooperating property owners, and individual owners listing single properties. Each source has merits. Established agencies often offer more choices. They check out the properties and provide ratings and reviews and often allow easier payment options such as credit cards. But if you deal directly with the owners you'll probably pay less." —Rick Steves

Directory of Italian Agriturismi
Agriturismo.com is a comprehesive website which offers great ways to experience Italy via its accommodations on hundreds of farms throughout Italy, many of them idyllic, and none of them commercial.
Agriturismo.net offers a big choice to stay in agriturismo apartments, houses, and B&Bs in Tuscany since 1998—both country and city locations.
AgriturismoSearch.com is a webguide to the Italian farm holidays.
Agriturismo Olivello is a wonderful rustic lodging in the center of Tuscany, new the archeological museum of Murlo, where you live in a home away from home graced with your own kitchen and truly unusual hospitality. A new swimming pool with an incredible view of the surrounding hills now adds to the tranquil experience in the midst of so much natural beauty. Wonderful hosts.
Agriturist Farm Holidays offers farm holiday choices.
Holidays Farms in Tuscany. Several holiday farms in Tuscany offering wine and food trips, tuscan cultural tours, Italian language and culture courses, trekking excursions, relaxation and golf programs. See the website for a photo gallery, information about travel packages, lodges, prices, terms and conditions.
In Italy Online features agriturismos and other listings.
Italy Farm Holiday offers farmstays across Italy.
La Volpe e l'Uva consists of six vacation rental apartments with a swimming pool. The farm is in a beautiful position in the country side, only 4km far from the historic center of Perugia, 15km far from Assisi and 30km from Gubbio, 2km from the Trasimeno lake. In the farm we produce and sell olive oil, wine and jams.
Siena Agriturismo rovides an.excellent list of agriturismos in the Siena region of Italy.