Going Local: Travel Tools and a Travel Philosophy from Nicholas Kontis
Dislodging the fruit from the high branches of a mango tree in Mexico and learning to make tamales from señoras in Puerto Vallarta. Staying above the George and Dragon pub in London and learning to pull a good draught beer. Camping and hiking in Yosemite National Park. These memorable experiences are just a few examples of the way that author and globetrotter Nicholas Kontis travels. In his book, Going Local: Experiences and Encounters on the Road, Kontis has turned his passion for connecting with communities, culture and the natural environment into a treatise on responsible travel that is packed with resources that travelers can use to follow in his footsteps. Travel is not a spectator sport, and with Kontis' tools, travelers can make the most out of every trip.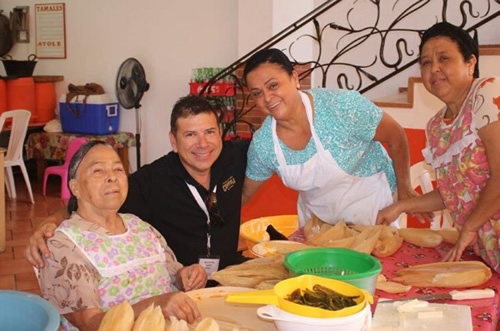 Kontis learns how to make tamales in Puerto Vallarta.
The Rise of Global Tourism
International tourism is a booming industry. In 2016, there were over 1.2 billion international arrivals across the globe, and those tourists spent more than 1.3 trillion dollars. As the World Bank states, "Tourism [is] a key driver of socio-economic progress through export revenues, the creation of jobs and enterprises, and infrastructure development."
The rise of mass tourism—where large amounts of people visit a destination at the same time—has been an important part of this rise in tourism. It is also, however, unsustainable and often harmful, with profits monopolized by international companies, communities marginalized, and the natural environment harmed. By "going local," as advocated by Kontis, travelers not only put their tourist dollars (or Euros or pounds) more directly into the hands of locals but also create intercultural connections that are at the heart of travel.
Connected Travel (the Antithesis of Mass Tourism)
"Your trip should make the world a better place by contributing to economic and social development," writes Kontis. True, you can find a 3-euro Carnival mask in Venice, but purchasing that souvenir benefits a manufacturer in China rather than a local artisan trying to preserve a heritage tradition. Purchase local handicrafts and pay a price that reflects the understanding of a fair wage. "Exploitation of people or the environment in any form conflicts with the mantra of a responsible traveler," he adds.
These are just a few of the words of wisdom offered up by Kontis in Going Local. While "responsible travel" is the catchphrase of the moment when it comes to tourism, it's not always clear to travelers what exactly to do to ensure their travel is responsible. Mass tourism is relatively cheap and easy. Responsible travel requires sustained effort. Kontis lays bare the stark differences in detail.
"Study your destination. Learn as much as possible about the people, customs, and history of your new surroundings. Be a global citizen by making friends with locals. Being responsible includes "going local" and merging into the local society as if it were your home," Kontis writes. The reward for the work is travel that is more authentic, fulfilling, and memorable.
Nick Kontis' Rules for Responsible Travel
Ride green


Educate yourself about your travel destination and its cultures


Before traveling, research which businesses engage in responsible practices


Buy goods from local artisans and farmers


Don't buy goods made from endangered plants and animals


Use less energy


Don't drink from disposable water bottles


Conserve water


Don't litter
Resources and Inspiration for Going Local
"

Many travelers tramp through Europe like they're visiting the cultural zoo." – Rick Steves

in Going Local
Kontis' book offers chapters on peer-to-peer travel and the sharing economy, in which he reviews numerous websites and apps where travelers can find everything from advice and accommodations to travel buddies and dining companions. Sure, you've likely already heard of AirBnB, but are you familiar with Triprapp or Roomorama? In addition, because Kontis is clearly a foodie, he has three entire chapters dedicated to connecting through food, including meal sharing, cooking classes, and food tours. A chapter follows that identifies what it means to be a responsible traveler (see summary above), volunteering while traveling, and living abroad (including Transition Abroad's very own Resourceful Traveler contributing editor, Tim Leffel). Each of these chapters details online resources for finding these opportunities to connect, and includes anecdotes and experiences from travelers. One of the final chapters is dedicated to interviews with travel legends such as Rick Steves (Europe Through the Back Door travel authority), Tony Wheeler (founder of Lonely Planet), Don George (writer and editor for National Geographic Traveler, Lonely Planet, and BBC Travel, among others), as well as James Michael Dorsey, who all share travel insights and favorite experiences.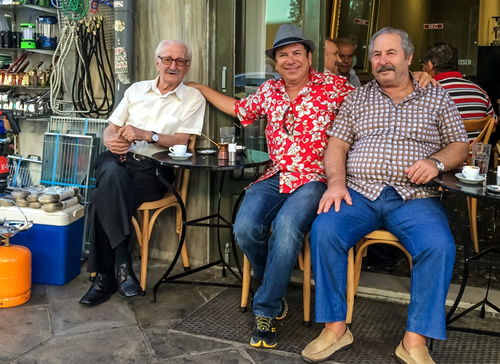 Kontis hangs out with the locals in Athens.
Digging Deeper into Travel
While each of the "travel icons" cited above is admirable, I believe that Kontis' book would benefit from some other perspectives to expand upon his wise vision. Of the seven "icons" interviewed, all are white, six are men, and none seem to be under the age of 45. As travelers, our relationship to a place can vary according to our cultural background, gender, sexual orientation, skin color, age, and wealth. Ideally, we maximize our awareness of the many factors and ways in which travel can perpetuate cultural hegemony.
Thankfully, the anecdotes sprinkled throughout the book add a few more perspectives. Yet, it would have been great, say, to hear about decolonizing travel culture from activist and traveler Bani Amor, to take a look at gay family travel with 2TravelDads, or to read about Jamaican-Canadian travel writer Oneika the Traveller, whose blog is "dedicated to inspiring, encouraging, and empowering both women and people of color to see the world."
Overall, however, Kontis' book is a valuable resource for turning any trip into authentic travel. As he observes in his final chapter, "I learned to become a better world citizen by mingling and merging into my new surroundings. The more we connect with people, the better we get to know them." Ultimately, by knowing others and learning from locals, we can become more tolerant, informed, and responsible with every trip we take.
Volunteering on Vacation
As someone who has written extensively about volunteering while on vacation, I read with great interest Kontis' chapter on volunteering. I was pleased to see many reputable organizations with which I am already familiar, and to learn about some new ones.
In recent years, I have become better informed about the risks to children of volunteers in orphanages. Kontis mentions this type of volunteering in passing, but anyone considering it should first read about the risks and harmful practices that plague orphanage volunteering. For anyone interested in this type of work, here are some good guidelines to consider.  
Amy E. Robertson is the author of Volunteer Vacations in Latin America (2013, Moon Handbooks). Her writing has been published on NPR, Vice MUNCHIES, Budget Travel, Delta Sky, National Geographic Traveler, Wall Street Journal, Christian Science Monitor and Travel + Leisure, among others. Amy has lived in six countries and traveled in more than 60. Her volunteer experiences include building houses in Washington State and Honduras, monitoring presidential elections in Ecuador, working with youth on social documentaries in Bolivia, and serving lunch at soup kitchens in Seattle and Beirut. She has a background in international development and nonprofit management and has worked in both the private and nonprofit sectors.

You may see Amy's many articles for us, her numerous books, and her expanded bio page here.