End Elephant Suffering for Tourism
Experts Describe Why, Where, and How
A group of animal welfare advocates, conservation experts, and responsible tourism bloggers have come together on World Elephant Day (12 Aug) to call for a more enlightened and humane approach to Asian elephants in tourism.
The group, writing in a new travel guidebook Elephants in Asia, Ethically, highlight the plight of Asia's 13,000 captive elephants—many of which are working in Asia's booming wildlife tourism industry. Despite a growing demand for ethical elephant tourism, welfare, and working conditions are extremely varied with many animals suffering abuse and hardship.
In Thailand alone, there are estimates that around 2,700 elephants are employed in tourist camps. The vast majority of these animals are used to give rides to tourists; others are trained to "paint" and perform a variety of unnatural activities.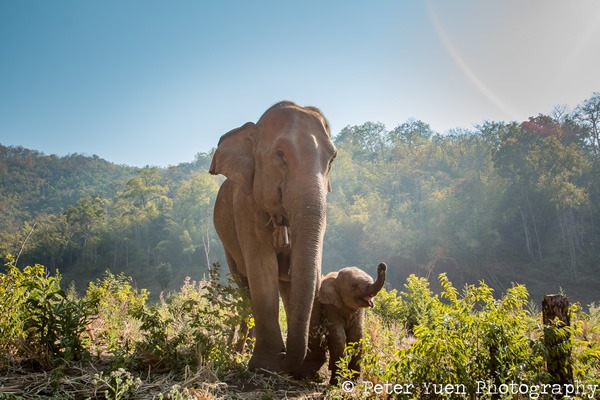 Elephant walking with child.
Training elephants for this sort of interaction often involves extreme abuse and violence. As the guide explains, elephants have never been domesticated in the same manner as horses. Even when born into captivity and relatively tame, they're still considered wild animals in possession of all their natural instincts. A controversial training method, called the phajaan, is sometimes used to "break" the spirit of baby elephants and prepare them for human interaction.
Conditions in elephant camps vary enormously. The very worst operators force their animals to give long rides in searing heat and on busy, traffic-filled roads. Painful training methods are used to teach elephants to paint pictures onto canvas and perform circus tricks such as riding motorbikes and playing soccer.
But, as the experts point out, there are few simple answers. Simply banning elephant riding and other activities could leave many captive elephants in a much worse condition.
Even if there were enough forest space to home them all, captive elephants could not be easily reintroduced to the wild. They consume up to 200kg of food daily and can live for 70 years. Tourism, for better or worse, is one of the few ways for their owners and mahouts to cover the cost of their upkeep and welfare.
Instead, the guide, which is published by Horizon Guides and supported by Intrepid Travel, calls for a more humane approach.
Much of the responsibility lies with travelers themselves. Patricia Sims, co-founder of World Elephant Day and president of the World Elephant Society, said: "The more people support the places where elephants are allowed to live more naturally, the quicker we will see the necessary changes in the elephant tourism business that will help to ensure a healthier future for captive elephants, and those who care for them.
"Although reintroducing elephants back to protected forest sanctuaries can be successful, not every captive elephant is capable of returning to the wild. While we must replenish and preserve Asian elephant populations in the wild where we can, we must also properly care for those elephants living in captivity, and treat them with the respect and dignity that they deserve."
The guide finishes on a note of optimism. Although there is much work to be done to improve the condition of Asia's working elephants, the growing interest among travellers for responsible and ethical tourism is a positive development. With the right pressure, the industry may be forced to change for the better.
Matthew is a reformed perma-traveller who has finally found his way back home to the UK after a decade living in North and South America, Southeast Asia and Europe. He is a co-founder of I&I Travel Media, the Outbounding community, and most recently Horizon Guides, a publisher of special interest travel guidebooks.