Spanish Study and Cultural Travel in Guatemala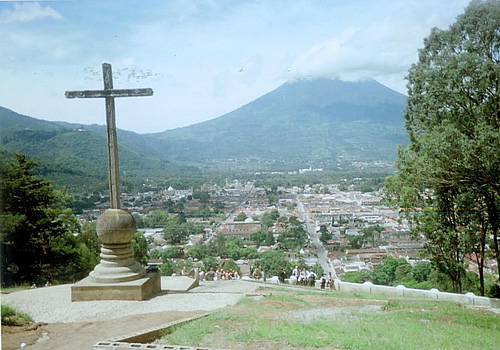 View of Antigua from Cerro de la Cruz
My first trip to Guatemala was fabulous! I spent one month (July 2013) in the colonial, earthquake-damaged city of Antigua (a UNESCO World Heritage Site), living with a local family, studying Spanish at COINED/Máximo Nivel (Native Spanish Program), and participating in cultural excursions through Guinness Travel. This trip, which I arranged through AmeriSpan, was a great combination of learning activities which exposed me to many aspects of Guatemalan culture. Despite it being their winter ("rainy season"), there was a good amount of dry weather and sunshine as well.
Over the years, I've traveled to many places, and my recent travel has focused on Spanish immersion with the hope of one day being fluent. I'm not your typical student; I'm a middle-aged professional with a love of learning and a desire to see the world. This year I chose Guatemala for its rich cultural history, abundance of Spanish language schools, and its appealing affordability. In comparison to other countries, things are so inexpensive here. My main concerns were the health and safety issues that come with being in a Third World country, but I took the proper precautions and was fine.
Luck was on my side as I got placed in a wonderful homestay (a variety of housing options is available); Ana María and her husband Mario were my host family and provided a loving and comfortable home with delicious daily meals and weekly laundry service (which is optional and requires extra payment). Ana María's mother and two sons made regular visits to the house, so I had opportunities to practice my Spanish with all of them. Occasionally there was a misunderstanding such as when Ana María placed a soup bowl next to my plate and said, "Es chile." Expecting a Mexican-style meat-and-bean dish, I began eating it like soup and realized that it was very spicy. In fact, it was chile sauce (made from hot peppers) for the pork and was to be shared by everyone at the table. I was embarrassed and later explained my error and apologized, and we all had a good laugh. Ana María told me there is no need to worry since we are family. This is part of the firsthand cultural learning.
The family was very nurturing and treated me like their own daughter. Mario even walked me to school on my first day (a 15-minute walk along uneven sidewalks and cobblestone streets) after I expressed concerns about getting lost. For the first week, I was the only student in the house, and then two additional students joined me for the remaining three weeks. They were seminary students from the United States, and since Ana María and Mario are very religious, there was lots of religious-themed conversation which I was used to from several years of Catholic schooling as a child.
Classes were held every day at the Máximo Nivel school. I paid for 4-hour group lessons Monday through Friday (for which I was easily able to substitute a 2-hour private lesson when I had to miss my regular class in order to participate in one of the school-approved excursions offered by Guinness Travel). The results of my test on the first day placed me in an advanced Spanish class, "Alto Intermedio" (high intermediate), which met from 2-6 p.m. (some classes meet in the mornings). It was perfect for me as I had studied Spanish for nine years and needed the most help with conversation—speaking and understanding. I loved my class with teacher Evelyn and a textbook which focused on discussions of controversial topics which were interesting (for example, immigration, the death penalty, government and politics, suicide, etc.) and required using the dreaded subjunctive tense. The students (3-5 in my class, depending on the week) were an interesting mix of individuals living in the U.S. and abroad, and most were teachers. As a psychologist, I was the exception. It felt good to break free of the heavy grammar and vocabulary classes of the past and to spend most of the time reading aloud textbook selections on various themes and having good respectful discussions about difficult topics. And, since it was school, there was written homework which often consisted of essays, which I enjoyed.
As a special treat, Evelyn tried to schedule a class trip or other cultural activity each week to supplement our in-class learning. During my first week, we took a "chicken bus" (recycled U.S. school bus) to San Antonio, a nearby town of indigenous people who shared some of their culture—an explanation (in Spanish) of gender roles, traditional clothing, and a marriage ceremony; demonstrations of weaving, coffee grinding, and tortilla-making; and sampling the chicken, tortillas, and coffee they made for our group. This activity was enjoyable and we supported them by paying for the session and purchasing some of their beautiful hand-made crafts. I left with a lovely colorful weaving (tejida) to hang on my wall. During my second week, we saw a sad movie ("Voces Inocentes") about Guatemala's civil war. During my third week, I missed a class trip to a macadamia nut farm because I was on another excursion. During my last week, we took a "chicken bus" again, but this time to San Andrés Itzapa which is known for its spiritual devotion. We visited a sacred place for worshippers of "Maximón," a liquor-drinking, cigar-smoking idol whom many indigenous people rely on for health, money, success, and overall prosperity. These class field trips brought to life some of the cultural aspects that we had previously discussed.
Optional excursions that I went on (with other students and volunteers) with Guinness Travel included weekend trips to Tikal/Flores/Río Dulce/Lívingston; Lake Atitlán and Chichicastenango (huge outdoor market); and El Salvador; and half-day trips to Yalú coffee farm and Pacaya Volcano. The Tikal trip was my favorite because the Mayan ruins were so impressive, the small jungle animals so cute, the natural hot springs so refreshing, and the boat ride along Río Dulce so peaceful. Climbing up the active Pacaya Volcano (and roasting marshmallows near the top) was interesting, but after doing so much walking/hiking in previous days, I was tired so opted to pay for a horse ("Champion" and his guide, Hugo) to carry me up and bring me back down. The rest of the group chose to walk, but most of them were younger than me and in good shape. One of the guys in the group looked back at me on the horse and commented, "la reina" (the queen). Little did he know that I was thinking, "la wimp." Even on the horse, which was comfortable at first, I became sore as we climbed over lots of rocks and steep steps. I hadn't expected to be doing so much walking/climbing/hiking/jungle treks in Guatemala—but I'm glad I got to see so many breath-taking sights.
There's plenty to do and see within Antigua, such as Mercado de Artesanías (lots of crafts), Parque Central, Cerro de la Cruz (to ensure safety, the tourist police escort groups there twice per day), Arco de Santa Catalina, churches and ruins, ChocoMuseo, and others. But it's the people who are the heart of it all and an important part of the culture, and I had the good fortune of meeting some really nice people. I also got to experience one of their holiday celebrations, on July 25th in honor of Santiago. I attended the two-hour parade which included lots of schoolchildren playing musical instruments or displaying some aspect of Antigua's culture such as food and fútbol (soccer)—and I saw and heard lots of loud fireworks. It was a spectacular demonstration of cultural pride.
In terms of the overall travel experience—including the homestay, the people, the culture, the classes, the excursions, the spectacular natural scenery, and the low cost—Guatemala proved to be my favorite study abroad destination in Latin America. Previously, I have had the pleasure to study in Mexico and Puerto Rico as well as in Europe (see my article on Language Immersion in Spain). Guatemala's impressive nature and Antigua's colonial charm are definitely worth a visit. If you enjoy hearing 5:30 a.m. rooster wake-up calls and climbing up hills, you won't be disappointed. Come see it for yourself!
Sybil L. Holloway is a psychologist at Bloomsburg University in Pennsylvania and a freelance writer. Her website is www.sybilholloway.com.